After years of public speculation, Hong Kong pop singer Anthony Wong Yiu Ming (黃耀明) has officially come out as gay. He made the announcement during the last night of his four-night concert series as the lead singer of Tat Ming Pair (达明一派) on Monday. The duo first starting performing in the 1980s and was popular throughout the 1990s.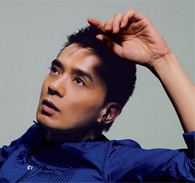 Anthony Wong
Wong's declaration has made him the first high profile Hong Kong artist to come out in publicly since the late pop superstar Leslie Cheung who came out in a documentary Yang ± Yin in 1996. Cheung was 46 when he committed suicide in 2003.
On the first night of his concert series at the Hong Kong Coliseum, the 49-year-old is said to have hinted about his sexual orientation when he played a video in which he was seen caressing a man. It asked: "Is Anthony Wong a tongzhi?" When the media asked him about his sexuality after the first night, Wong denied he was a tongzhi (同志).
On the last night of the show, he said – after performing 'Forgetting Him is She' and 'Forbidden Colour' – in Cantonese: "People don't need to guess whether I'm a tongzhi anymore. I'm gay. I'm a homosexual." He then spelled it out: "G-A-Y."
"This is the 21st century, people don't have to live in a dream anymore like in the song Forbidden Colour (禁色); one day we will not be judged by who we love. Nor will people need to speculate whether you are gay."
His speech was greeted by cheers and applause from the audience.
He also took a swipe at the territory's well known paparazzi industry: "I'm sorry, members of the media. For the next 20 years, I'll keep singing songs, but you don't need to ask me this question any longer. As for why I didn't disclose my sexual orientation earlier, I was just afraid that you wouldn't have any gossip to spread. Now that everything is done, thanks everyone."
Wong later revealed that his boyfriend was in the audience and his band mate Tats Lau also expressed his support to his partner.
When he was asked if the duo (Wong and Lau) would get married (to their respective partners) on the same day, he replied: "Not at this stage as Hong Kong is still not yet legal, my next goal would be fighting for this right. The society hasn't change a bit. People are still judgmental and youngers are still afraid of coming out to their parents." He stressed he wouldn't encourage others to come out, as he knew people are still afraid. He thought that people shouldn't be in fear, and people didn't need discuss it publicly.
Most of his fans were happy about news but not surprised. Other celebrities found his coming out to be brave and encouraging.
At the end of the night he updated his Weibo saying, "Thanks everyone, I am pretty happy and gay!"