Held every three years, the Asia Pacific Outgames festival is part of the World Outgames that was first held in Montreal, Canada in 2006. The Asia Pacific Outgames was held in Melbourne in 2008, then New Zealand's capital Wellington in 2011.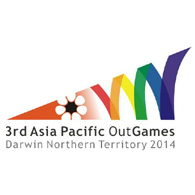 The decision for Darwin to host the next event was announced in New Zealand last month the Gay and Lesbian International Sports Association – Asia Pacific (GLISA–AP). The week-long event which typically comprises sports and cultural programs and a human rights conference is expected to attract over 1000 people plus supporters.
About 16 sports will be included in the next Outgames, with the most popular events expected to be swimming, badminton and volleyball. The dates for the week long event are from Saturday, 10 May to Friday, 16 May 2014.
The third World Outgames will be held in Antwerp in 2013.
The Outgames is different from the Gay Games. The Gay and Lesbian International Sports Association that organises the Outgames was created in 2006 following a dispute with the Federation of Gay Games (FGG), the sanctioning body of the Gay Games. The seventh edition of the Gay Games was supposed to take place in Montreal in 2006, but Montréal organising committee and the FCC failed to come to an agreement. Montreal 2006 organised the games without the sanction of the FGG which developed into the first edition of the World Outgames. The official Gay Games for 2006 was awarded to Chicago which was held a week apart from the Montreal event.