The article is an unedited version of a column that was first published by the Hong Kong-edition of China Daily on Oct 10, 2013 and is republished with permission. To read a prior column "Sexual minority rights in HK obstructed by Christian churches", click here.
The Hong Kong press is busy exposing allegations of corruption against the last chief executive, Donald Tsang Yam-kuen, who scuttled out of office in June 2012 accused of accepting gifts of travel and accommodation in return for preferential treatment. It is now alleged that evidence in a case connected with Italy's former prime minister Silvio Berlusconi was not released by Hong Kong authorities, not for any monetary gain, but to gain Tsang, a Roman Catholic, an audience with the Pope.
The case indicates clearly the way Hong Kong figures allow their religious beliefs to leach into public business. Hong Kong is a modern, secular society, but many of its public servants prefer to be guided not by principles of democracy, law or human rights, but by their Christian beliefs. Hong Kong's LGBT (lesbian, gay, bi-sexual, transsexual) community is no stranger to this; it has long suffered from theologically inspired oppression.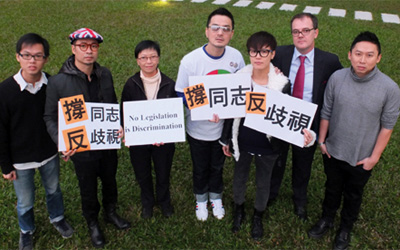 Hong Kong activists campaigning for anti-discrimination laws when
the government announced the launch of the Advisory Group on
Eliminating Discrimination Against Sexual Minorities (AGEDASM) to
replace the Sexual Minorities Forum (SMF) that collapsed in
March this year after a mass withdrawal by LGBT groups.
In January, Chief Executive Leung Chun-ying was so wary of taking on the Christian lobby that he ruled out even consulting the public on LGBT issues. In March, in response to this, LGBT groups withdrew en masse from the Sexual Minorities Forum (SMF), the body set up in 2004 to handle LGBT issues. Its work had been disrupted when the government invited the New Creation Association (NCA) to membership. This was a group affiliated to American Exodus International, one of the prime proponents of the "reparative therapy", which claimed to be able to "pray away the gay". The NCA claimed to represent "ex-gays", but its presence destroyed any hope that the SMF might function effectively.
The government, of course, did not want the SMF to be effective. Its real purpose was to indicate to the world that "something was being done".
When Hong Kong's LGBT organizations called this bluff and withdrew, the government was faced with the destruction of its position. It had claimed that there was no consensus for change in Hong Kong, yet survey after survey was finding that public opinion was increasingly in favor of reform. It had claimed that, in setting up the SMF, it had taken active steps to ameliorate the lot of the LGBT community. Now the SMF had been exposed for the sham it was. As legislation, or even consultation, was considered just too dangerous, the easy option was to delay. So was born the Advisory Group on the Elimination of Discrimination Against Sexual Minorities (AGEDASM). This, it was promised, would have members with more clout than those of the SMF it replaced.
The LGBT community was skeptical, but decided on balance to give the new body the benefit of the doubt. Things initially boded well. Membership was restricted to individual appointees, so avoiding the issue of the inclusion of any "ex-gays". As the group's chairperson, a respected figure of great standing was appointed, Professor Fanny Cheung Miu-ching, pro-vice-chancellor of the Chinese University of Hong Kong and earlier the founding chairperson of the Equal Opportunities Commission. Members included Ray Chan Chi-chuen of People Power, the only openly gay LegCo member, as well as five prominent members of LGBT groups and other academics and representatives of the business community. These, it seemed, were not individuals likely to allow themselves to be taken for a ride.
Unfortunately, doubts have now arisen. To "give balance" we are told, AGEDASM appointed two individuals opposed to equality or protection for the LGBT community. One is Professor Kwan Kai-man of the Department of Religion and Philosophy at Hong Kong Baptist University, a fundamentalist Christian and a speaker for the Society of Truth and Light. The other is LegCo member Priscilla Leung Mei-fung, a participant in the successful campaign to prevent public consultation earlier in the year.
[Editor's note: The following paragraph was not in the column published by the China Post on Oct 10, 2013.] Two members should not, one would imagine, be able to seize the initiative in a body like AGEDASM, but there are worrying indications that this has indeed happened. In its two meetings to date, AGEDASM has been diverted into procedural and semantic wrangling. Much of its second meeting was given over to Christian groups, which were invited to present, at length, their view that same-sex relationships were a sin and to complain that they would be deprived of their right to discriminate were any anti-discrimination legislation enacted. It is left unexplained how presentations of such religious beliefs might have been thought to have assisted the elimination of discrimination; discrimination, of course, caused, in large part, by those very beliefs.
The government has a track record of delay and deliberate obfuscation in LGBT matters. It badly needs to prove that it is raising its game, but it is not doing this so far. The LGBT community is watching the work of AGEDASM with growing impatience. It will not wait so long next time to expose an organization it suspects has been established to work to its detriment.
Nigel Collett is Fridae's Hong Kong correspondent. In 2008 he was appointed English secretary of the Pink Alliance, Hong Kong's largest grouping of LGBT organizations and he remains prominent in LGBT activism in that post. He was a founder in 2011 of Hong Kong's Pink Season, the annual celebration of LGBT culture.