Winner of the GLAAD Media Award for Best Play, Chay Yew's A Language of Their Own will be staged in Singapore for the first time starring Koey Foo, Phin Wong, Mark Waite and Peter Sau.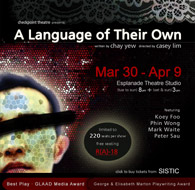 Written by US-based Singaporean Chay Yew more than 10 years ago, the multiple award-winning play
A Language of Their Own
will be seen for the first time in Singapore.
A critical and popular success at New York's Public Theatre, the play won the George and Elisabeth Marton Playwriting Award and the Gay & Lesbian Alliance Against Defamation (GLAAD) Media Award for Best Play.
Directed by Casey Lim, the play will be layered with a modern yet sensitive visual moodscape, and through the Singapore voices, he will lead the audience on an evocative journey into the lives of four men - three Asian and one Caucasian - who will examine the nature of love, desire, sexuality, and self-definition in a series of interconnecting stories.
Filled with witty and accessible dialogue, this play weaves together the anatomy of a breakup from an intense 4-year relationship, the negotiation of intimacy both in public and private spaces, and the effects of unsafe sex on relationships between couples and relationships in general.
The play is produced by Chiu Chien Seen of Checkpoint Theatre and stars Koey Foo, Phin Wong, Mark Waite and Peter Sau.
Date: 30 Mar 2006 to 9 April 2006
Time: 8pm (Tuesdays to Sundays), 3pm (Saturdays & Sundays)
Venue: Esplanade Theatre Studio
Tickets @ $33 (excludes $2 SISTIC fee)
Available from all SISTIC outlets
SISTIC hotline: 6348 5555 or book online at
www.sistic.com.sg
.