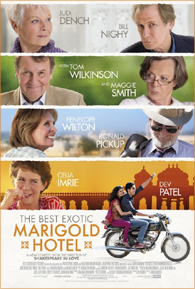 What if old people need to be put into retirement homes? In 1937's bittersweet Make Way for Tomorrow, which begins with an intertitle exhorting American viewers to "Honor thy father and thy mother", the blame is laid at the feet of what must obviously be very nasty, selfish, and ungrateful children. In Jack Neo's Money No Enough in 2008, the well-meaning but not well-off children of "Mudder" are made to feel like scum for sending the doddering, brain-addled septuagenarian to live in the ironically named Sunshine Home, where they imagine all the residents live miserably.

Let's say you're an elderly British person, though. Faced with a worsening pecuniary situation, a rapidly dismantling NHS, and the cutting down of pensions in the second Great Depression, you would of course make your way to a Third-world country with a more affordable cost of living, where you could still be treated with some measure of respect by virtue of your comparative wealth.

If you're a British director, you'd assemble the usual veterans of British cinema, because obviously 1. it's your turn to provide them with their guaranteed-in-blood acting roles in their senior years and 2. you couldn't pass up the opportunity to remake Eat, Pray, Love as a comedy with very old people in it.

And of course, the global audience deserves another dose of British comedy film, a singular genre which consists of making light of the worst possible situation (economic recessions, closing factories and tin mines...) and seeing these characters cope with warmth and laughter. The Best Exotic Marigold Hotel is a film so well done that even when it starts of with a cast of very hard luck and unlikeable characters, you will end up empathising with their humanity and laughing along with their little misadventures and journeys of discovery in an exotic land.