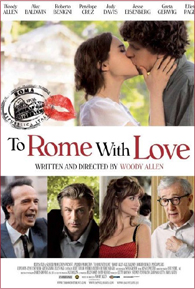 There's a popular Colombian artist called Botero. He paints really fat people and animals. In fact, he only paints fat things. That's his gimmick and what we now know him for though once upon a time, his pieces were appreciated for their ironic social commentary. It turns out he started off painting cute but somewhat fat generals and their brood, robber barons and industrialists and their wives, comfortably middle-class South Americans and their supersized families. Some might call that a cheeky critique of greed and wealth in an unequal society. As it turns out, Singapore did commission Botero to make something in his signature "fat style" for the city-state. We got a big, fat pigeon sculpture at the banks of the Singapore River. It's undeniably Botero but where's the irony, the cheekiness, the fun, the social critique of Botero gone?

Then there's Woody Allen and the city of Rome's commissioning of a Woody Allen film set in Rome. In all probability, they were expecting the director to make a "Woody Allen romcom" but filled with copious tourist promotion advertisement shots of Rome's many piazzas, the Colosseum, the Vatican, and perhaps a shout-out to Italian opera, al fresco dining, and the paparazzi. After all, the director has no natural affinity for the city (unlike New York in Manhattan and Paris in Midnight in Paris) and without that affinity, will only be able to tell a generic story that's good enough so that the City of Rome and its colours and smells take centrestage.

There are four separate short stories, all of which conspire to feature: Rome's architecture, its piazzas, al fresco dining, Italian opera, and the paparazzi. There's an architecture student whose girlfriend has her flighty BFF visit and ruin their love nest, a small-town couple who visit the city for a job interview and get propositioned separately by a society girl and a movie star, a visiting record producer who persuades his mortician in-law to share with the world his talent for Met-calibre opera singing, and an average Joe who finds himself suddenly famous for being famous.

It's a testimony to his long career that even as a commissioned piece, To Rome with Love is a success. For the City of Rome, it's a generic enough, amiable enough romcom set in the city, showcasing the sights and sounds of the city. For comedy fans, it's a genuinely funny film with great comic timing and dialogue, with four stories based on the simple theme of infamy and notoriety. Even fans of Allen's better films in 80s might be able to argue for a subconscious attempt at high concept writing, a Crime and Misdemeanors or Melinda and Melinda style existential comedy on the dualism of Rome, the eternal city and Rome, the whore of Babylon.

As far as Woody Allen's romcoms or comedies go, To Rome with Love is generic but at no point does the director's touch for humour and absurdity feel compromised. Instead, To Rome with Love is easily one of the funniest and most charming comedies that he has made.