Co-commissioned by both the Hong Kong and Singapore Arts Festivals, gay Singaporean composer Mark Chan who composed Little Toys' new vibrant and modern score will also conduct a select ensemble of top-rank musicians at its world premiere at the 2003 Hong Kong Arts Festival on Feb. 28.


Above: Openly gay Singaporean composer Mark Chan
Known for his ability to straddle both popular and serious music forms, Chan was chosen for this prestigious project because his music blends both traditional and modern, East and West into a very accessible brand of modern Asian music.
He was Composer-in-residence at Theatreworks for seven years and was music director and co-composer for "Lear" which was performed in the 1999 HK Arts Festival and toured Japan, Singapore, Hong Kong, Jakarta, Perth, Berlin and Copenhagen and has also worked extensively in TV, scoring National Geographic and Discovery programs and also writing and producing for the best Asian pop singers including Tracy Huang, Andy Lau.
Chan who had to fly to Hong Kong twice to work with the three musicians, Wong On Yuen , Guo Yazhi and Margie Tong, compares working with Chinese and Western instruments: "There is a wonderful character to Chinese instruments that
decides
how a melody lives and develops. And that is balanced by the even nature of the Western instruments and their temperament. But what I was not quite prepared for was how I felt the music was not mine anymore when they started playing it. It was and is a humbling experience."
Chan also feels that the project was a difficult balancing act as he wanted to make music that would have its own life while giving life to the film and yet still be true to what he felt was the artistic intent of Sun Yu, the renowned director of the movie.
"A silent movie demands to be accompanied fully unlike a movie with sound and voice… I kept asking myself: "Is the music too Chinese? Is the music Chinese enough?" Ultimately I think there will be many who will ask and answer these questions - declaring my success or lack of it. We all know you can never please everyone. What I do hope is that the music has heart and depth and gives life and pleasure and pain in equally moving amounts. Just as the film does."
---
The film stars Ruan Lingyu, the undisputed screen goddess of Chinese Silent Cinema with Live Music accompaniment played by a select ensemble of top-rank musicians from Singapore and Hong Kong including Leslie Tan of the T'ang Quartet on cello and Hong Kong foremost erhu player, Wong On Yuen.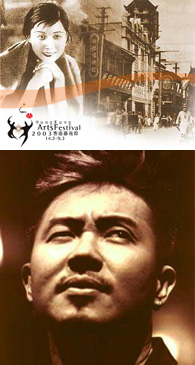 Above: Openly gay Singaporean composer Mark Chan
Little Toys
is an exquisite example of the golden era of Chinese cinema that vividly recreates the world of 1930s Shanghai. The film traces the life of a simple peasant toy maker (Ruan) who refuses the proposal of a rich man to elope with her to Shanghai but instead chooses to be with her ailing husband and her children.
Despite becoming a widow and having her son kidnapped during the civil war, she fought hard to rally the remaining of the village to Shanghai to eke out another life. Years later, with her grown daughter, she established a viable toy making factory. But alas, another war took the life of her daughter and friends. She lost everything and is reduced to selling toys on the streets of Shanghai in her old days. Fate has it that her old paramour would chance upon her in her darkest hour in the final scene and takes her into his arms again.
Little Toys
Date: Feb. 28, 7.30pm; Mar .1, 2.30pm & 7.30pm
Venue: Cultural Centre Grand Theatre
Tickets: Tickets are available at all URBTIX outlets
Telephone Credit Card Bookings 2111 5999
For more indo, visit www.hk.artsfestival.org
Little Toys will be performed in at the Singapore Arts Festival in June 2003, visit www.singaporeartsfest.com for more details.