The following article was first published on Mar 11, 2009 on gayrussia.ru, a Russian and English language news and resource web site operated by Project GayRussia which also organises the gay pride parades.

Organisers of Moscow Pride on Wednesday submitted appeals to the European Court of Human Rights following the ban on 'marches' that were banned by the Moscow authorities in May last year.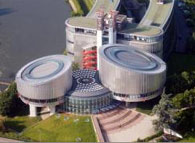 European Court of Human Rights
In all, the organisers of Moscow Pride applied to City's Mayor, Yuri Luzhkov, for 155 marches, five each day during May 2008. All were dismissed by Moscow authorities due to the threat for security of the participants and possible violations of public order.
The application against Russia sent to the European Court includes 50 pages with 178 documentary attachments on more than 500 pages.
All 155 bans of Gay Pride marches were held lawful by Tverskoi District Court of Moscow and Moscow City Court.
In their new application to Strasbourg-based court, Russian gay activists insist that by banning the marches Moscow authorities breached a number of European Convention articles, particularly Article 11 (right to freedom of assembly), Article 13 (right to court protection) and Article 14 (right to non-discrimination).
They are asking for 11,000 Euros (US$14,178) compensation for each march banned. [Bringing the total to 1.7 million euros or US$2,191,725.]
Public action during the third Moscow Gay Pride did take place, but without the permission of the authorities, on Sunday June 1.
Activists gathered next to the monument of famous Russian composer Peter Tchaikovsky on Bolshaya Nikitskaya street in the city centre, where they conducted a picket. Then, after a very short 'march' down a nearby street, they unveiled a huge banner of Moscow Pride from the windows of a flat on Tverskaya Street in front of Moscow City Hall that they rented.
The banner read 'Rights to Gays and Lesbians! Homophobia of Mayor Luzhkov should be prosecuted!'
"The case that we sent to the European Court [today] is a unique and unprecedented one," commented Nikolai Alekseev, one of the Gay Pride organisers.
"No one has ever appealed the bans of so many public events. Additionally, not a single member-state of the Council of Europe has ever faced complaints about the bans of three Gay Prides in a row. This, as well as other complaints that we sent to Strasbourg, vividly demonstrate that the breaches of the right to freedom of assembly for homosexual people in Russia are now systematic".
A month ago, Moscow Pride organisers asked the European Court to give priority treatment to their applications concerning the bans of Gay Prides in 2006 and 2007.
"We haven't received any reply yet but we hope that the legal dispute about the banned Moscow Prides will soon be fully resolved," Mr. Alekseev said.
"We are absolutely sure that we will win our cases in Strasbourg."
On May 16 - the day of Eurovision Song Contest final in Moscow and the weekend of International Day Against Homophobia, Russian and Belarusian gay activists are planning first Slavic Gay Pride in Moscow.
City Mayor Yuri Luzhkov and the head of Moscow police Vladimir Pronin have already hinted that they will ban the staging of the Gay Pride in Moscow for the forth consecutive year.
"Irrespective of Moscow authorities' recent statements that they will again ban the Gay Pride, we are again going to officially apply for permission in full accordance with the Russian law, which is on our side," Mr. Alekseev vowed.
"If there is a ban again, we will once again take the case though the courts and, if necessary to Strasbourg," he said.
"But we will go on the streets on May 16. The Eurovision Song contest in Moscow gives us a unique chance to shout all around the world even louder about the breaches of the rights of sexual minorities in Russia and Belarus."
And he promised "new surprises" for the Moscow May gay festival. "As in previous years, we will not repeat ourselves," he added.
Last year, the Pride organisers outwitted both the Moscow police and the ОМОН (OMON) security force with secret plans that included bussing participants and the media to the monument of Tchaikovsky, who is considered by many to have been gay, by today's standards.