Prince Manvendra Singh Gohil of Rajpipla who made the world headlines after coming out as gay in 2006 has set up India's first old age home for gay men and women.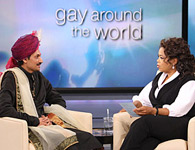 Prince Manvendra Singh Gohil on The Oprah Winfrey Show in 2007. He is the only male heir to the 650-year-old Rajpipla dynasty.
The scion of the Rajpipla royal family from Gujarat appeared as a guest on the Oprah Winfrey Show in an episode in her "Gay around the world" episode in 2007. He was disowned after coming out as gay in 2006 but has since reconciled with his family, and is the only known person of royal lineage in modern India to have publicly revealed he is gay.
The project is developed by the prince through the auspices of Lakshya Trust, a community-based organisation he founded to provide support and promote HIV/AIDS prevention among men who have sex with men (MSMs). The organisation runs three centres where men can go to get information and counseling services.
"The heterosexual world doesn't understand our issues that well as yet because of existing stigma and discrimination in our society," the 44-year-old prince said in a television interview.
The home is slated to open at the end of this year and will also house HIV+ patients.