Amfar said in a statement: "Among the thousands who lost their lives in last Tuesday's earthquake in Haiti were 14 members attending a support group meeting at the offices of SEROvie, an amfAR-supported community organisation that provides outreach and HIV/AIDS-related services to men who have sex with men (MSM). One staff member also remains missing.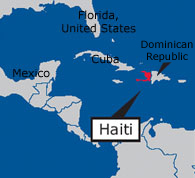 "SEROvie, which received community awards from amfAR's MSM Initiative in 2008 and 2009, has been working with MSM-a group that is particularly vulnerable to HIV in Haiti due to stigma and discrimination-to provide medical and psychosocial support, and has been building a network of providers who offer HIV services targeted at MSM. Tuesday's devastation compounds the difficulties of working within what was already a fragile infrastructure, and represents an enormous loss to the HIV/AIDS community in Haiti."
According to SEROvie's executive director Steve La Guerre: "We were having our usual support group meeting on a quiet Tuesday afternoon when the worst happened. The sound is unforgettable. I can't even describe the horror as the ceiling and the wall of the conference room started to fall and the chaos started. Fourteen young men were lost forever in the earthquake. Paul Emile, the leader of the group, and Stacy were the only survivors."
Cary Johnson, executive director of the International Gay and Lesbian Human Rights Commission (IGLHRC), said in a statement the group has sent funds directly to SEROvie to allow their services and supplies to continue to reach their LGBT and HIV-affected clients in Haiti. The group is also providing funds to groups such as Colectiva Mujer y Salud, a feminist Dominican organisation that has crossed the border into Haiti in order to assist with direct relief to LGBT communities and to the many other victims.
How you can help
IGLHRC has set up a specific fund for SEROvie. To support them directly, visit IGLHRC. The Gay & Lesbian Alliance Against Defamation recommends the Rainbow World Fund which touts itself as the world's only lesbian, gay, bisexual, and transgender based international humanitarian aid charity. The San Francisco-based charity which has partnered CARE, a global humanitarian organisation, for on-the-ground relief work in Haiti has supported ongoing projects in the Caribbean nation focusing on improving nutrition and developing access to safe drinking water since 2004.
Give money, not "stuff"; and avoid scams
- Aid organisations say anyone interested to help should donate money; sending clothes, food, or other items is, at best, misguided.
- Unfortunately scammers are looking to profit from the tragedy, so do your homework and only make a donation to reputable and established aid groups such as American Red Cross, Doctors Without Borders, and UNICEF.
- For tips on giving intelligently and avoiding scams, visit Charity Navigator, independent, non-profit organisation that evaluates American charities.