The small church which has congregation of about 50 people, of whom about 80 per cent are gay, counts Rev Dr Yap Kim Hao, a former Bishop of The Methodist Church in Singapore and Malaysia as its Pastoral Advisor. (His letter calling for a more open and inclusive society when a permit to hold SnowBall was being rejected was published on Fridae. See link on page 2.)

The FCC invites all to its Christmas Celebration service on December 25 at the Parliament Chambers at the Old Parliament House Level 2 at 5pm. (More on the service on page 2.)

Jean Chong and her fantasies, cause and vision for the gay community: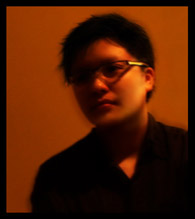 æ:
Please introduce yourself.
Jean: My name is Jean Chong. Resident inclusive addict of Free Community Church, an all-inclusive church in Singapore.
æ:
ASOL
Jean: Going on 30. Female/ Feminist/ Progressive Chairperson of Free Community Church.
æ:
What's your "look"?
Jean: T-shirt and jeans! Anything comfortable!
æ:
What are you currently occupied with?
Jean: Can I be politically incorrect and say myself? I'm occupied with the Christmas service at the Arts House, coming 2005, why saying No to SnowBall is bad for Singapore, the gay, the transgendered and the straight communities... that makes everybody, doesn't it?
æ:
What inspires you?
Jean: People. The God in people, the many faces of Christ I see enacting and re-enacted in people. We can see it if we look closely.
æ:
What is your earliest childhood memory?
Jean: My mum running up and down a burning apartment block trying to warn everyone and me standing there looking not quite sure to run or wait.
æ:
What is the achievement you are most proud of?
Jean: To be myself and I'm extremely proud of the people in FCC (I don't say it very often). We have come a long way!
æ:
If you could do it all over again, what would you change?
Jean: Nothing. Unless you are talking about changing the world. I like that life journey with friends, family, memories and surprises.
æ:
How are you misunderstood?
Jean: That I am stern, aloof and unfriendly but I am really very compassionate and corny.
æ:
How do you spend your Sundays?
Jean: In church with my extended family and enjoying the interaction and exchange of ideas buzzing around during lunch, coffee and dinner!
æ:
Tell us one of your fantasies.
Jean: To meditate in Tibet for seven years because I don't have to do anything just plenty of thinking and sleeping.
æ:
What about yourself would you like to change the most?
Jean: Nothing. I like myself.
æ:
What was the most important thing that happened to you in the last 12 months?
Jean: Having a friendship with our vice-chairwoman Susan who is a compassionate, generous, gutsy married mom of three. She sees beyond my youth, impetuous nature and sexuality, and affirms the identity of our gay members so much so that she sounds as if she's gay!
æ:
What do you think is important in a relationship?
Jean: Forgiveness. To accept the fact that we'll never understand one another fully because we are all so unique.
æ:
What turns you on?
Jean: Ben and Jerry's, wine and good conversation.
æ:
What's your biggest guilty pleasure?
Jean: Sleep, I don't have enough of it and I don't have time for it either.
æ:
What is your vision for the gay community?
Jean: The gay community needs to work more with one another in its diversity and build more bridges internally and externally. Hopefully, it will move into the post-gay era 30 years down the road. That will truly mean diversity in Singapore because it doesn't matter anymore what you are! It will also need to learn to draw the circle wider to include those that reject them, true diversity knows no boundaries.
æ:
Tell us about a cause that you support?
Jean: Equality for all. In that I mean, the poor, the weak, the handicapped, the transsexuals, the despised, the oppressed. The word Free in Free Community Church stands for First Realise Everyone is Equal.
æ:
Who would your dream date be if you were straight (if you are gay), or gay (if you are straight) for a day?
Jean: I'll like to meet Martin Luther King Jr or Julianne Moore.
æ:
Tell us something even your mother doesn't know.
Jean: That I love her cooking despite saying so for a zillion times.
---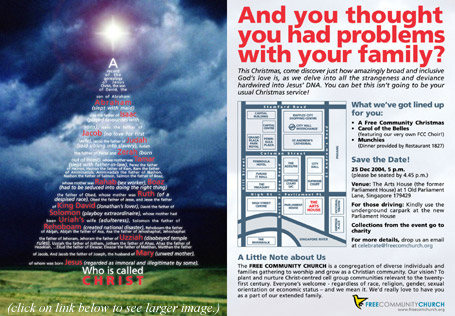 Click on the forum link or link below to see larger image.
The
Free Community Church
is a congregation of diverse individuals and families gathering to worship and grow as a Christian community. Our vision is to plant and nurture Christ centred cell group communities which are relevant to the twenty-first century. We are an inclusive Church which desires to develop a vibrant heart relationship with God balanced by a deep thinking mind relationship with the Bible. We don't believe in easy pat answers to life's challenging questions but we believe in a great and loving God who can transcend all challenges and questions.
The Free Community Church affirms the dignity of every human being, their families and communities while recognising that we each live imperfect lives in imperfect worlds. We thus need to rely totally on the grace of God through Jesus Christ. The Free Community Church welcomes ALL people regardless of race, religion, gender, sexual orientation or economic status. We would love to have you as a part of our extended family. If you have any questions about Free Community Church, its ministries and/or activities, please do not hesitate to drop us an email at
info@freecomchurch.org
.
Christmas Celebration Service
Date/Time: Dec 25, 2004 (Sat) - 5pm
Venue: The Chambers, The Old Parliament House Level 2
Speaker: Clarence Singam (whose article "why the rejection of snowball.04 is bad for singapore" was published on Fridae on Dec 16, see link below)
All are cordially invited! Please be seated by 4.45pm. Be our guest at the Christmas dinner on Level 1 immediately after the service.
In the spirit of giving this Christmas, all donations and offerings received during the service will be donated in its entirety to AWARE. AWARE is a registered charity in Singapore and operates support and counselling programmes for women who have suffered from rape, battery and physical abuse.