Not long after the resignation of gay Republican Congressman Mark Foley, one of America's most influential and politically well-connected religious leaders has quit after being accused of paying for sex with a male prostitute has admitted he bought drugs.

The news broke just one week before voters in eight American states - Colorado, Idaho, Pennsylvania, South Carolina, South Dakota, Tennessee, Virginia and Wisconsin - will decide on gay marriage bans among other issues such as abortion and stem cell research on Tuesday's national midterm elections. [As of this writing, amendments to ban gay marriage won approval Tuesday in Idaho, South Carolina, Tennessee, Virginia and Wisconsin while results were pending in Arizona, Colorado and South Dakota. Similar amendments have passed previously in all 20 states to consider them.]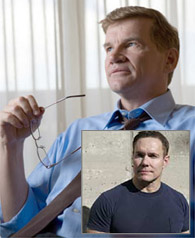 Ted Haggard, a vocal and staunch opponent of gay marriage, resigned as president of the National Association of Evangelicals and head of his Colorado-based New Life Church after Mike Jones (inset), a former male escort, alleged they had engaged in sex repeatedly.
Ted Haggard, a vocal and staunch opponent of gay marriage, resigned as president of the National Association of Evangelicals, an umbrella group which represents more than 45,000 churches with 30 million members, and head of his Colorado-based New Life Church. His move follows allegations he met monthly with a gay prostitute for three years. He and his wife Gayle have five children.
After initial denials of knowing his accuser, Haggard has since admitted to "sexual immorality" and buying methamphetamine.
Haggard's alleged extracurricular activities came to light when his accuser, Mike Jones, told a US radio station on Nov 1 that Haggard had been paying him for sex, about monthly, over a 3-year period. He had only however learnt of the 50-year-old preacher's identity several months ago when he recognised Haggard on TV.
Gay rights advocates as well as some conservatives have charged the party that prides itself on family values as having a hypocrisy problem.
Five weeks ago, Foley, a Republican congressman resigned and was forced to come out after he was found to have sent sexually explicit instant messages to teenaged former male pages.
"The attention focused on these cases will inescapably lead people to think about these people's hypocrisy," said Matt Foreman, executive director of the National Gay and Lesbian Task Force.
"They make a career out of defaming gay people and preaching family values, when it's clear that it's just a veneer."
Jones, said in an CNN interview: "For someone who is up there preaching that marriage should only be between a man and a woman, and he's going behind his wife's back and seeing a gay man for sex, I felt like I owed it to the gay community to expose the hypocrisy."
His account of events however also came under scrutiny last Friday after he voluntarily took a polygraph test two days after making his allegations. The polygraph examiner concluded Jones showed some 'deception'. Jones told the news network that the part of the test he failed was on the question of whether he and Rev Haggard had sex. "I don't understand why I failed the part about Haggard," he said.
While gay rights activists point to these high-profile cases to show (as studies have) a link between homophobia in men to self-denial and suppression of their homosexuality, and the hypocrisy of gay-bashing religious leaders; the ex-gay movement might ironically get some unexpected mileage out of the case by making Haggard their new poster boy.
During Sunday services at New Life, it was announced that Focus on the Family's James Dobson, with a team of two pastors, would be overseeing Haggard's "therapeutic restoration."
Michael Cobb, the author of
God Hates Fags: The Rhetorics of Religious Violence
, said in a Salon.com article: "They can show through Haggard that something actually happens. In some ways it's so scripted, so perfect."