Nineteen gay venues, mostly bars, will distribute free condoms and literature, and display AIDS awareness posters to educate their clients on HIV/AIDS and safe sex.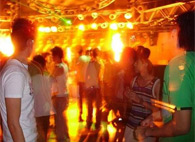 As part of the Beijing Anti-AIDS Association for MSM Venues project jointly initiated by AIDS prevention organisations in Chaoyang District, some venues will also install condom vending machines while other will feature dance performances with safe sex message.
According to the
China Daily report
, while Chaoyang Chinese Aids Volunteer Group has been leading a long campaign to promote safe sex among gay men, its results are mixed.
"When our volunteers promoted the concept of safe sex in entertainment places, people always showed antipathy to us," Xiao Dong, chief executive of Chaoyang Chinese Aids Volunteer Group, said.
"The managers disliked us because it affected business. But now we have persuaded the owners to join in this campaign and make a united front."
According to the memorandum of understanding, bar owners are responsible for promoting safe sex among their gay clientele in their venues. They have joined the fight against AIDS with medical scientists, volunteers and government officials.
Statistics from the Chinese Center for Disease Control and Prevention (CDC) showed that the number of gay men living with HIV/AIDS has increased to 47,000, double the figure in 2004. Gay men are considered a high-risk group for HIV infection in China, along with intravenous drug users and sex workers, according to the World Health Organization.
Gay men account for almost 7 percent of the total HIV/AIDS sufferers in the capital city, according to the Beijing CDC.