Chatty, witty and candid, Hugo Chang didn't hide his personality when meeting Fridae's Taipei correspondent Jason Tan.

"If it weren't for the fact that I am HIV positive, I could still be an arrogant, self-centered guy and easily have my way with guys - thanks to the cute looks some say I possess," admitted 32-year-old Hugo.

"I have to stand out and shatter the stereotype that all HIV/AIDS patients are dreadful," he said.

It was a hot, passionate affair when he gave a blow job - minus the protection - to a man while he had an ulcer in the mouth. Later, few feverish nights sent him to the emergency room, and the blood test showed that he was HIV positive. It happened in 2000, when he was 25 years old.

"People ask if I hate him for infecting me. But I wasn't forced into the act, so I had to shoulder half of the responsibility. Maybe it is my destiny and it prompted me to look at things differently. In a way, I am lucky," he said.

He came clean about his being gay and HIV positive to his family, colleagues and the public. While it's obvious he has got the whole package (and proves it in a Jan-Feb 2006 issue of Good Guy magazine), he is more than a just a pretty face. In 2005, he became the spokesman of a local AIDS prevention campaign in which he was the poster boy and he said: "Don't I look as good as Takeshi Kaneshiro in the shot?" He went on a popular TV talk show hosted by public gay TV personality Kevin Tsai to talk about LGBT issues and being a macho-yet-vulnerable man.

To Hugo, coming out wasn't a particularly difficult decision.

"This is my attitude in life, and being gay or HIV positive doesn't change the way I treat my friends. If you can't accept the fact that I am gay or positive, so be it," he said.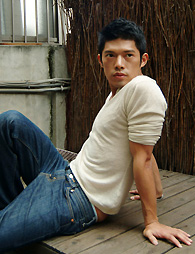 Hugo Chang (above and top of page, left) with well known Taiwanese pop star A-mei (middle) who's frequently dubbed the 'queen of Mandarin pop' speaking about HIV/AIDS at the Taiwan Pride Parade in 2007.
In this interview, Hugo bared all again - this time his soul - to talk about becoming certain of his sexuality in senior high school, getting infected with HIV and his decision to take a road less travelled.
æ: You wrote in your blog that you became aware of your sexuality in your teens, what was it like then and when did you come out to your family?
Hugo: It was in junior high school that I started to find myself curious about men's bodies. But I was timid as it was the days of limited information on LGBT issues. I was certain of my sexuality when I went into senior high school and before I reported for military training (which is compulsory for all Taiwanese males when they turn 19); I came out to my sister. She told me that our family would stand by me; but if I really opted to go this path, I had to be ready for the pressure and challenges usually not faced by heterosexuals.
æ: How did you find out about your HIV status?
Hugo: After a casual sexual encounter in 2000, I developed fever which lasted 15 days. I was admitted to the emergency room on the eighth day and the basic blood test came out ok. But I told the doctor I was gay and asked him to do a HIV test. (In Taiwan, doctors have to gain the patient's consent before testing for HIV). The test came back negative due to the window period and I did another test. The fever continued and I was hospitalised for a week. I was told to pick up another report in a month's time.
I had a whole month to contemplate on the outcome; there was a 50:50 chance of me getting infected. If the result came back positive, I had to prepare for the challenges ahead. I would be a lucky folk if I wasn't infected and I told myself I would take extra precaution in my future sexual encounters. But it was not to be.
I went to pick up the report in the middle of a work day, and told my colleagues to wish me luck. In the hospital, after being told that the test had come back positive, I only uttered an "Ah". I wasn't taken aback as I already had a whole month to prepare for the worst. I called my sister and asked her to tell my mother and brothers. The pressure was tremendous and I couldn't bear to tell my mother in person. My brother told me that she cried nearly a month but she didn't reproach me. She asked if she wasn't being a good enough mother.
æ: What made you decide to go public about your infection?
Hugo: These days, Taipei is more LGBT friendly. But I think there could have been some breakthroughs. I had evaluated the situation about my family and workplace and decided that the time was ripe for me to jump out and speak for the HIV/AIDS community. [Note: Hugo became the spokesman for Taiwan's AIDS prevention campaign in 2005 when the heatlh authorities wanted to promote the awareness on Dec 1, World AIDS Day.] Harnessing the power of media would reach more people than just coming clean to only my friends.
Going public was relatively easy as I had moved out of my family home after my military training, so fewer neighbours could recognise me and point fingers at my family.
If you have a positive attitude, most people wouldn't discriminate against HIV patients. I did prepare for the worst after telling the company what happened to me. I already worked there for three years, so I thought I would at least be compensated if I got fired. (Laugh) After appearing for the HIV/AIDS campaign, my friends were worried that my landlord would kick me out, or neighbours boycott me, or restaurants refuse to sell me food, but all these did not happen.
In general, I didn't really face discrimination except being rejected by some of the guys I tried to pick up. (Laugh)
æ: How did your colleagues react to the news?
Hugo: Some people think that all HIV patients are frail and/or those have ulcerous skin. I want to be proof that AIDS isn't that dreadful. I chose to took the medicine as soon as I tested positive although my viral count was low.
At the time, I would put the bottles of pills on the office desk, and I had to swallow 12 to 16 pills a day according to different schedules. Sometimes I have difficulty sticking to the precise intake timetable due to hectic office work, but now things are better as I only need to take the pills twice a day - in the morning and at night. To some patients who may vomit or have diarrhea after taking the pills, I would only experience nausea but now the situation is better as my body has gotten used to the medication after eight years.
Sometimes when my colleagues ask what those pills were for, I would joke and say: "They are for my HIV, so that I could live longer and share your workload." Probably because I am working in a media company [Hugo works in a TV station doing computer animation], so people here are open minded. And I had worked there for three years before the infection, so they already knew me as a person.
My boss even asked me if overseas treatment was more advanced, and if yes, he was willing to send me abroad. I was moved and consider myself to be a lucky guy.
æ: How does Taiwanese society and government today see HIV positive people?
Hugo: In Taiwan, patients have to apply for a special medical card to get full medicine subsidy from the government. The medical bill every month for a single patient could run up to nearly NT$20,000 (US$610), so it is a heavy burden for the government.
The government is still focusing on the education of AIDS prevention among adults. But another area of concern is of HIV positive babies. How could they adjust to school life given the stigma? People are still uncertain about the transmission ways of HIV/AIDS, even among LGBT community. But they are no longer that fearful/ignorant of the disease. I am trying to maintain a positive lifestyle and looking at my best. I want to prolong my lifespan now, so that when those days really come in the future, it would be the time I depend on my family.
æ: Why did you decide to strip for Good Guy magazine in 2006?
Hugo: After the AIDS awareness campaign, the publishing company approached me and wanted to do a story on HIV/AIDS and asked me to be the cover guy. I was then 28 years old, thinking that if I didn't do it then, I might regret that I didn't for the rest of my life! I did struggle as I was required to do full frontal shots. Then again, it did satisfy my desire to have my own pictorial and how could I let the cover boy chance slip?! (Laugh) Plus, I reached an agreement with the company: they would donate NT$5 per copy sold to help HIV positive babies.
But now, I have given away all the copies that I bought, and have to ask my female colleagues to give one to me if they no longer want the copy they bought. (Laugh)
æ: In your blog, you said that you would always inform your sexual partners of your HIV positive status... [According to the blog, Hugo met his ex-boyfriend in the gym, telling the latter straight before their first movie date that he had HIV. After the movie, he drove Hugo back to his rented house and Hugo plucked up the courage to ask: "Do you want to come up?" He replied: "I am looking for parking space." At the time, Hugo knew in his heart that this man was going to change his life.]
Hugo: I told my ex-partner the second day that I was HIV positive, I told him to consider the pressure and risks if we wanted to take things further. I didn't want to leave the issue in the future only after we had grown closer. I wanted to inform him in the first place, and let both of us have the right to choose. We were together for six years, and his recent medical report showed that he was negative.
I am now single and for my potential sexual partners, I would tell them "I am HIV positive". There are risks of contracting the disease not only in anal but also oral sex. If I had kept mum during the sex act without coming clean, I would face the moral pressure even with protection on. If you like someone and you have been through the inconveniences of taking the pills and all, you wouldn't want them to be in the same shoes.
æ: Do you have any regrets and what's in store for 2009 and beyond?
Hugo: We always have a lot of social commitments - to our work, our partners and our family - which don't allow us to go and do things we've always dreamed of. If you know you would regret, why not do it now? I am now single, and I want to go to different countries to participate in their gay parades. I want to learn how they promote LGBT rights and advocate greater awareness on the issue.
In terms of AIDS prevention, I still have to work and I don't think I can fully commit to that now. My EQ is low (laugh) and if other patients keep asking me the same question, I would be impatient. Many HIV positive patients tend to be depressed and would keep thinking of the same issue over and over again. I could offer them advice a few times, but you will have to be the one to get out of the mental trap and help yourself. In the future if possible, I would love to get involved in AIDS foundation work in Taiwan and help patients and their family members to get through the tormenting period.
Correction: The correct spelling of Hugo's lastname is Chang and not Zhang as originally published.