In the video, members of Manifested Glory Ministries, a Bridgeport, Connecticut-based church are seen standing over a 16-year-old boy, performing an exorcism and demanding that the "homosexual spirit" leaves the teenager as he screams and writhes on the ground.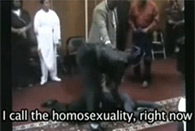 "You homosexual demon, get up on outta here!" they say. "You demon, loose yourself!"
"You sex demon... you snake!"
Although the video is believed to have been taken six or seven months ago, major news outlets including CNN only began to report on it on Thursday.
The church's pastor, Patricia McKinney, told CNN that the boy approached her and asked for help with his struggle against his sexuality. According to her, the ritual was a "casting out of unclean spirits" rather than an exorcism, and similar events have happened in the church before.
Speaking with the Associated Press, she said: "We believe a man should be with a woman and a woman should be with a man. We have nothing against homosexuals. I just don't agree with their lifestyle."
"I think it's horrifying," Robin McHaelen, executive director of True Colors, told the Associated Press, referring to the video posted by Manifested Glory's now-defunct YouTube page. "What saddens me is the people that are doing this think they are doing something in the kid's best interests, when in fact they're murdering his spirit."
The controversial video on Youtube has since been removed by the church.
FOX News report
Manifested Glory Ministries Exorcism Video
Related articles:
Gay exorcism video abuse or freedom of religion
(Examiner.com, Jun 25)
Apparent Gay Exorcism in Conn. Church Causes Outrage
(LATimes.com, Jun 25)
Video of church's 'casting out' gay 'demon' in teen sparks anger
(CNN, Jun 25)