Yoga guru Baba Ramdev has reportedly filed a Supreme Court petition to challenge the Delhi High Court's recent judgement legalising gay sex among the consenting adults.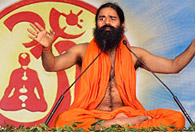 Yoga guru Baba Ramdev says homosexuality can be "treated by yoga, pranayam and other meditation techniques."
Local newspapers have named lawyers associated with Baba Ramdev - Suresh Sharma and Gandharva Makker - as saying that the yoga guru has challenged the July 2 judgement contending that homosexual activities are not only against public morality, public health and healthy environment but also against the interest of the society.
"...homosexual activities which are otherwise unnatural there is high risk of exposure of a large chunk of population to dangerous sexually transmitted disease inlcuding HIV/AIDS," said the appeal which was filed on Wednesday.
The guru, who reportedly has millions of followers across the country and holds mass yoga classes that attract up to 20,000 at a time, said homosexuality caused 'mental bankruptcy' and is an illness which could be treated.
"It can be treated like any other cogenital defect. Such tendencies can be treated by yoga, pranayam (breathing exercises) and other meditation techniques," he said in the petition.
It is not known how much these classes will cost but a source told Fridae that yoga classes run by Baba Ramdev to "cure" diabetes and cancer are priced upwards of Rs12,000 (US$250).
Although the recent landmark verdict legalised gay sex among consenting adults, which was earlier an offence under Section 377 of Indian Penal Code with punishment up to life imprisonment, the verdict had retained the penal provision for non consenting gay and acts involving male minors.
Astrologer Suresh Kumar Kaushal has separately filed an appeal in the Supreme Court seeking for the Delhi High Court decision to be overturned. "No one can imagine the consequences of the unnatural acts. Even animals don't indulge in such activities," his petition stated. He went on to say that if "such abnormality" is permitted "then tomorrow people might seek permission for having sex with animals."
The
Times of India
has meanwhile reported that the supreme court has issued notices to the federal government and nonprofit Naz Foundation, which petitioned in 2001 for consensual gay sex to be legalised, as a result of Kaushal's petition.