Despite overall progress being made in recent years, HIV is still ravaging gay men, transgendered people and other men-who-have-sex-with-men across the Asia-Pacific region. This message was reiterated by unified and diverse voices at the recent 9th International Congress on AIDS in Asia and the Pacific (ICAAP 9) which closed in Bali, Indonesia on Aug 13.
The biannual event, which drew over 4,000 delegates from 65 countries is the region's biggest HIV/AIDS meeting and the second largest in the world to discuss the international response to the global epidemic.
According to a recent Commission on AIDS in Asia report from UNAIDS, a man who has sex with another man (MSM) becomes infected with HIV every 7.5 minutes in Asia.
"Almost 200 new MSM HIV cases occur each day across our region," declared Shivananda Khan, Chairperson of the Asia Pacific Coalition on Male Sexual Health (APCOM) in a pre-ICAAP forum that explored this worrying trend.
Indonesian President Susilo Bambang Yudhoyono: Needs of MSM must be considered within the framework of an effective national HIV programme
Scores of activists and researchers heralded the need for a more comprehensive, yet targeted response and this was echoed in the official opening address from Indonesian President Susilo Bambang Yudhoyono who said that needs of "men who have sex with men" to must be considered within the framework of an effective national HIV programme. President Yudhoyono's statement of inclusion was a much-welcomed signal of the political will and leadership that is missing from many countries in the region, where MSM continue to be omitted from national AIDS strategies despite evidence showing them as a most-at-risk-population requiring targeted interventions.
In Singapore, Malaysia, Taiwan, Japan, Thailand and Hong Kong, infections among gay men and MSM where rising faster than the general population
Although issues relating to gay men and MSM represented only a small fraction of the topics covered in the ICAAP 9 program, the few sessions that tackled this sensitive and surprisingly under-researched subject were significant. One such event as was a landmark gathering chaired by Singapore's Action for AIDS, where reports from developed Asian countries were presented together for the first time. What transpired was a grim account of an accelerating trend in Singapore, Malaysia, Taiwan, Japan, Thailand and Hong Kong where infections among gay men and MSM where rising faster than the general population.
Don Baxter, Executive Director for the Australian Federation of AIDS Organisations said that "male-to-male sex will contribute more than 50% of new infections in the Asia Pacific by 2020" if the governments do not intervene. While developing countries such as Vietnam, Indonesia, Cambodia and Papua New Guinea can look to major donor countries such as the United States and Australia the same cannot be said for richer nations. Programs which target men who have sex with men in developed Asian countries are either non-existent or under-resourced, often due to lack of political will. Since international donors have their hands full with addressing the needs of lesser economically resourced countries, gay men and MSM in more developed nations are being left by the wayside.
The highest incidence of HIV among gay men, transgenders and MSM is recorded in Bangkok and the Burmese capital Yangon with researchers citing a prevalence rate of almost 30 percent in both cities in recent studies. The concern is that while prevalence is relatively low in other Asian cities such as Manila, Singapore, Hong Kong and Taipei, current conditions and persistent risky behaviour will push these countries towards similar epidemics to that of Thailand and Myanmar.
Low levels of condom use
Findings reported by the Family Health Institute found low levels of condom use often in conjunction with increasing consumption of recreational drugs among gay men and MSM in the region. This is despite a fairly high level of basic understanding of HIV transmission and safer sex practices within the same group.
One driver of this behaviour is the rising popularity of group "chemsex" parties where drug-use lowers inhibitions, impairs judgement and increases sexual stamina, creating conditions for easy transmission of sexually transmitted diseases (in particular syphilis which seems to be making a comeback among gay men and MSM throughout the region) to multiple people.
Further research from the Center of Disease Control in Bangkok illustrated how low self-esteem, feelings of isolation and marginalisation are significant factors that lead to safer sex messages being ignored.
Effects of the continued crimininalisation of gay sex acts
It is no surprise that a chorus from many sectors urged governments to decriminalise homosexual sex acts, implement laws to protect gay men and MSM from discrimination and adopt policies that enable drug-use to addressed within a health and social welfare environment.
"We have known for years that human rights are the bedrock upon which effective AIDS responses are built," said Kyung wha-Kang, Deputy High Commissioner from the U.N Commission for Human Rights, "in spite of this, human rights violations continue to proliferate."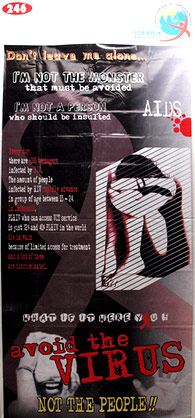 [Caption]According to JVR Prasada Rao, Director of the Joint UN Programme on AIDS (UNAIDS) Asia-Pacific Regional Support Team, "if we don't invest in strengthening legal protections for people living with HIV, women, men who have sex with men, transgender people, sex workers and people who use drugs, we will jeopardise the gains we have made in the region."
Recent successes in India and Pakistan were the subject of great interest during ICAAP 9 and are of particular significance for countries where post-colonial sodomy laws (such as 377A in Singapore and 377 in Malaysia) are still in place.
And yet, despite all talk of strengthening prevention programs, the question still remains: how can the lives of the ever-increasing number of people living with HIV to be improved?
No single solution can tackle this problem in its entirety. Measures like installing better health care systems, implementing laws to protect against HIV status discrimination and greater access to antiretroviral treatment will all be rendered meaningless if someone living with HIV is shunned by his or her family, friends, neighbours or colleagues.
After cutting through all the rhetoric and jargon of the 9th International Congress on AIDS in Asia and the Pacific the fundamental solution remains crystal clear: The HIV/AIDS cannot be halted without first changing the hearts and minds of everyone in the community.
---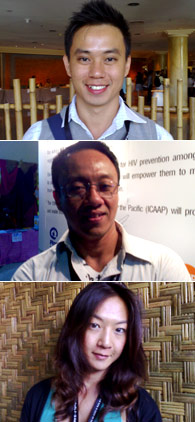 Top to bottom: Bryan Choong, Hary Prabowo and Sitthiphan Boonyapisomran
What can you do to stop stigma and discrimination against people living with HIV?
"To reduce the stigma of HIV we have to be there to support our friends who are going through the crisis. And if there is any misconceptions [related to living with HIV] we need to be bring prepared to stand up and correct these mistakes."
- Byran Choong, Centre Manager – Oogachaga Counselling Service (Singapore)
"People can seek better information about HIV and AIDS and try to give empathy instead of giving sympathy."
- Hary Prabowo – Indonesian MSM & Transgender Network - Gay, Waria, Lelaki yang berhubungan seks dengan lelaki lain (Indonesia)
"The most important way to reduce stigma and discrimination against people living with HIV is for these people to change the way they think of themselves. If they understand that they are important and didn't do anything wrong to get HIV, they will have the power to work for their community."
- Sitthiphan Boonyapisomran, MSM Program Coordinator – TREAT Asia (Thailand)