Ray (not his real name) was until recently an engineer working in Singapore. He had lost his job not because he had fallen victim to the economic crisis but because he was no longer able to perform his job after the brain damage he had suffered after consuming counterfeit Cialis. Like Viagra (sildenafil) and Levitra (vardenafil), Cialis (tadalafil) is a prescription drug used to treat genuine erectile dysfunction. Studies have found that such drugs are being increasingly being used by gay men who do not have erectile dysfunction, and often with recreational party drugs.
The 30-year-old gay man slipped into a coma and was hospitalised in a high dependency unit for almost a month due to complications he had suffered due to a severe drop in blood sugar levels. The counterfeit drug was found to contain dangerous levels of glibenclamide, a powerful prescription drug used to treat diabetes.
In a separate case, 26-year-old Brandon Boh and his German partner Rene Daniels, 45, were both found unconscious and foaming at the mouth by a friend in separate rooms in the latter's flat in Singapore. The older man survived but Boh died - 16 days later after he was found - of pneumonia and swelling in the brain. According to the Singapore Straits Times, a coroner's court in July heard that the pair is believed to have taken counterfeit erectile dysfunction drugs. Glibenclamide, which is also known as glyburide, was found in Boh's body.
The two are not isolated cases. A well-connected Singaporean gay man Fridae spoke to says he knows of six gay men being adversely affected by such drugs in 2009 alone although he declined to reveal personal details about the individuals.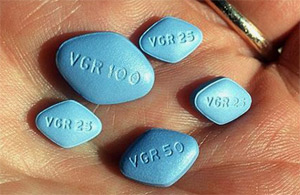 Genuine or fake? Counterfeit drugs can be hard to distinguish from the genuine.
Singapore's Health Sciences Authority (HSA) reported on its web site that they have recorded a total of ten deaths (excluding the case mentioned above) associated with the use of illegal aphrodisiac products and 24 coma cases in 2008 and 2009.
HSA told Fridae in an email interview that it had received a total of 302 adverse reaction reports associated with the use of illegal aphrodisiac products from February 2008 to June this year. Of these 302 reports, 76 were confirmed cases while 226 were suspected cases (the patients did not admit to taking of any such products).
Hong Kong's The Standard newspaper on May 20 last year reported two deaths and 51 cases in connection with the consumption of unregistered impotency drugs; and that similar cases have been reported in Japan.
Researcher Shih Ling Kao from Singapore's National University Hospital wrote in the February 12, 2009 edition of the New England Journal of Medicine (NEJM) that a total of 150 non-diabetic patients with severe hypoglycemia (low blood sugar) were admitted to the five public hospitals in Singapore between Jan 1 and May 26 last year. All the patients except one were men, and they ranged in age from 19 to 97. Seven patients remained comatose as a result of prolonged neuroglycopenia (shortage of glucose in the brain), and four subsequently died.
When consumed by healthy, non-diabetic patients in high doses, glibenclamide causes severe lowering of blood sugar which can lead to serious adverse effects such as seizures, coma and worsening of existing medical conditions in susceptible patients. The symptoms of low blood sugar or hypoglycemia may include shakiness, palpitations, nervousness, sweating, sleepiness, hunger, dizziness, confusion and/or having difficulty speaking.
HSA says it has recorded cases of patients who have become permanently immobile, uncommunicative, and had to be put on tube feeding.
"Some of these patients were admitted to hospitals in a comatose state and passed away without gaining consciousness. Those who came out of coma suffered permanent neurological impairment such as requiring tube feeding, or lose their ability to communicate. The pain and suffering experienced by the patients and their families are really not worth any short-term effects that people think they can get from consuming these products." Said Ms Chan Cheng Leng, Director of HSA' Pharmacovigilance Branch.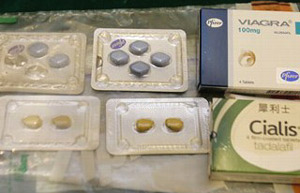 Fake Viagra, top left, and fake Cialis, bottom left display beside the real tablets, center during a news conference after a 2006 counterfeit drug bust in Hong Kong.
The counterfeit or unapproved drugs were at one point so easily available in Geylang - Singapore's best known red light district which is also popular for its eateries – that even street side diners were offered the pills for several dollars apiece.
A check with several clinics in Singapore revealed that a pack of four Viagra or Cialis tablets costs an average of S$80 not including consultation fees. (As all three erectile dysfunction drugs are prescription-only medicines, a consultation with a doctor is necessary.)
Roy Tan, a healthcare professional in Singapore, recounted that his former boyfriend became dizzy and went into a daze for several days after consuming what is believed to have been a counterfeit ED drug offered by a friend.
"Even though he managed to turn up for work, his colleagues told him that he was in a daze for a few days and he, himself, could not recall what he did during that period."
While some counterfeit drugs may be packaged identically and at times almost indistinguishable to be passed off as the real thing, the fake drugs are more often than not made under poor manufacturing conditions with no proper quality controls or professional oversight.
HSA has since February 2008 seized 650,000 units, amounting to more than S$1.6 million (US$1.15 million) of illegal products in more than 40 major enforcement operations targeted at illegal sexual enhancement products.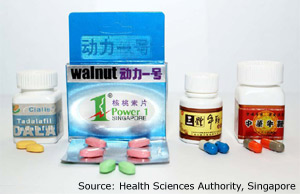 Examples of illegal health products touted for sexual enhancement
Other than counterfeit drugs such as Cialis and Viagra, other illegal products HSA has flagged include Power 1 Walnut, Santi Niubian - also known as Santi Bovine Penis Erecting Capsule - and Zhonghua Niubian, some which have been found to contain up to six times the recommended dose of glibenclamide used to treat diabetic patients.
Researchers and the authorities cannot be sure if the presence of glibenclamide in the counterfeit drugs is deliberate or due to accidental contamination. Shih and his co-researchers have speculated in the same NEJM cited above that "simultaneous contamination of several brands of drugs is consistent with a common manufacturing source" given that the drug packaging contained names of fictitious overseas factories which cannot be traced.
Tan who is medically trained suggested that if the addition of glibenclamide is deliberate, the counterfeiters might have intended for the drug to lower the consumer's blood sugar level as it would cause one's adrenal glands to secrete more adrenaline.
"This makes your heart pump faster and harder. The increased blood pressure forces more blood into one's penis and gives a harder erection."
He however warned: "But they are playing with fire, since the patient may go into hypoglycaemic (lower than normal level of blood glucose) coma and develop brain damage."
Key advice for consumers (Source: Health Sciences Authority, Singapore)
- DO seek professional medical advice for medical conditions
- DO report suspicious sales of illegal medicines to HSA [Enforcement Branch at Tel: 68663485] or your local police or health agency.
- DON'T buy and/or consume medicines from dubious sources, including the internet and peddlers
- DON'T gamble with your health.
Symptoms of hypoglycemia
Shakiness, palpitations, nervousness, sweating, sleepiness, hunger, dizziness, confusion and/or having difficulty speaking.
How can hypoglycemia be treated?
The acute management of hypoglycemia involves the rapid delivery of a source of easily absorbed sugar. Regular soda, juice, lifesavers, table sugar, and the like are good options. In general, 15 grams of glucose is the dose that is given, followed by an assessment of symptoms and a blood glucose check if possible. If after 10 minutes there is no improvement, another 10-15 grams should be given. This can be repeated up to three times.
At that point, the patient should be considered as not responding to the therapy and an ambulance should be called.
The equivalency of 10-15 grams of glucose (approximate servings) are: Four lifesavers, 4 teaspoons of sugar or 1/2 can of regular soda or juice. Read more on
medicinenet.com
.