It hardly seems possible to those of us who were in at the beginning, but Hong Kong's Fruits in Suits (FinS to its friends) has reached the respectable marker of its fifth birthday. I went down to the Kennedy Town pad of Eric Herrera, self-styled "Chief Dreamer" of the organisation, to offer FinS congratulations on its birthday. I also wanted to find out a little of its history, and Eric is one of the few with the facts, as he was involved at the start in July 2004, working as a volunteer. When two of the founders, Australian lawyers Gavin Denton and Eric Toh moved away from Hong Kong in 2007, they left behind Eric, and one of the other founders, Alvin Cheng, who's still working with Eric as a volunteer, to nurture the brainchild they had brought with them from Melbourne in 2004.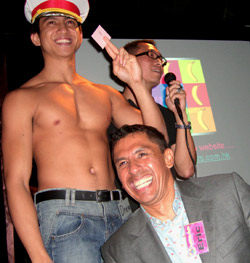 Eric J. Herrera, "Chief Dreamer" of Fruits and Suits (front)
I should explain straight away for those of you who have persevered thus far and who have never heard of it, that FinS is Hong Kong's most successful gay men's social/business networking group. It meets on the third Tuesday evening of every month in one of Hong Kong's bars, usually, though not always, at a non-gay "neutral ground" so that those not attracted to the 'scene' can attend with comfort. It's currently meeting, though, at DYMK (Does Your Mother Know), which apart from being a smart and upmarket dining venue also happens to be a gay bar, but this is atypical and FinS will move shortly to a venue elsewhere which Eric has yet to announce. At each evening event FinS provides a platform for individuals and organisations to promote gay friendly products and services. Eric invites one or more guests to each event to show their wares and to talk about themselves, as well as to sponsor the obligatory lucky-draw prizes of the night. Despite its name, FinS has no formal dress code and there's no need to wear a suit, though many FinS members do, as they come straight from their offices to mingle with the more fortunate who've managed to get home to dress down for the night. FinS now has a database of nearly 900 members, and of a night can expect to see up to one hundred of them drinking, gossiping and, crucially, passing to each other the all important business cards.
FinS gatherings are not intended as vehicles for the promotion of the bars, saunas and massage parlours of the regular gay scene, as these have their own PR channels, but rather for small businesses run by members or by companies catering to their tastes in everything from travel to footwear. Some of its most successful events have been the series of four presentations by Paul Ramscar on individual financial planning (tailored to the needs of the individual gay man, with or without a partner); a launch of a new fashion collection by John Ferdinand (this one drew a crowd of 280 to SOLAS bar when it was held); a "Shop Till You Drop" session; and a book sale by Hong Kong's leading gay novelist, Ip Chi-wai (Yezhiwai). Many of the businesses featured at events are too small to contribute much financially to the causes FinS supports, but benevolent behemoths like AirCanada, BluInc and 42Below have been very generous. One such, the Mandarin Oriental Hong Kong Hotel, co-sponsored an event with FinS by opening their Barber Shop for a gathering, helping FinS raise funds to support cabaret artist Rick Lau take his show My Queer Valentine to this summer's Edinburgh Fringe Festival and London's Leicester Square, while also showcasing the special services the mandarin tailors for men. FinS has also provided discreet space for local and foreign crews to interview willing volunteers for films being made about, for instance, Asia's covert pursuit of the gay dollar, Hong Kong society's views of coming out of the closet and gender-identification issues in Asia. Most recently, Hong Kong's newly emerging gay football team, One-Nil, used FinS as a platform to pitch for players.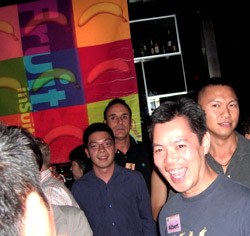 Aside from operating expenses, the majority of the funds collected at the door or from sponsors goes to worthy LGBT causes. FinS is now one of the largest and most regular sources of charitable funding for Hong Kong's tongzhi community. For instance, in conjunction with its sister organisation, Les Peches, which does for Lesbians what FinS does for gay men, FinS raised a very large proportion of the funding for last year's first Hong Kong Pride Parade. Eric aims to have FinS make a substantial contribution independently this year to the 2009 Pride. Other recipients of support from FinS have been the Rainbow Centre of Hong Kong (the independent support centre for LGBT youth in Mongkok) and AIDS Concern.
Whilst its events may only be held monthly, FinS keeps Eric and his volunteers pretty busy all the time. Eric manages the FinS website (it's at: http://www.fruitsinsuits.com.hk) and publishes an e-newsletter that reaches an enormous distribution list at least once a month. This provides the gay community with a vast range of useful information and links in many of those who are not out on the scene and who would otherwise have no source of local gay news. Eric, who like the rest of us, has a full time job aside from managing FinS, is now seeking help from anyone with CMS (Content Management System) web site experience and for writers to fill the site's columns. If you have time to help FinS and the community, do email him on eric.jh@fruitsinsuits.com.hk or send in your articles in about the local gay scene and LGBT culture. He'd love to hear from you.
I asked Eric how he came to be involved in all of this. "I've a background in events," he told me, "and had my own events production and catering company for fifteen years in New York City, so it comes as second nature." In New York City, one of his major clients was The Centre, the LGBT complex on 13th Street, for the opening of which Eric was event supreme. Another of his long term clients was the Lambda Legal Defence Fund, which held their annual gala in the iconic Fire Island Pines. Eric also spent a lot of time doing voluntary work with the Heritage Society in Houston, Texas before moving to NYC, where he volunteered for his precinct's Hell's Kitchen Community Board. Working for this, he found himself involved in anything from planting in parks to neighborhood policing patrols. He also has a background in entertainment; after his initial studies at the Illinois Institute of Technology's School of Architecture in Chicago, he moved down south to the Houston Ballet to study dance. This led to three years as a professional dancer with the Sharir Dance Company, at the University of Texas at Austin. Ultimately, he left dance behind, though he's lost none of the flair that first took him to the stage and which now energises FinS.
Almost immediately he arrived in New York, he met his partner, architect Glenn Wing, with whom he remains, 22 years later, in what Eric glowingly and proudly describes as a "wonderful relationship", one, incidentally, which you can see every month on the door at FinS, where Wing forms a welcoming committee with Eric, Anthony Wo, Edowan Bersma, Alvin Cheng and other volunteers. In five years of FinS, Eric has missed only one event.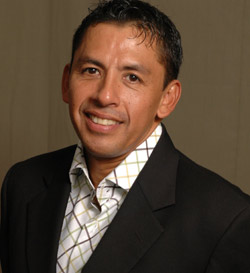 Eric J. Herrera, "Chief Dreamer" of Fruits and Suits
Thankfully for the community, it looks like Eric and Wing intend to stay in Hong Kong for the long term. Naturally, as FinS's "Chief Dreamer", Eric has plans for the future. Whilst he has no intention of abandoning the original aim of providing a forum for organisations to present themselves to the community, and will continue to contribute to local tongzhi activism, both financially and in getting the word out when there's a need for boots on the street, he has bigger dreams. He takes as his inspiration the many gay business associations around the world which publish their own local LGBT "Yellow Pages". Hong Kong has yet to enjoy a comprehensive guide to gay friendly business and this, when he gets it going will gain a warm welcome in the home of shopping. Eric aims at bigger things in Hong Kong, too. In his mind's eye is London's Village Drinks, a younger group, but an organisation that can garner up to a thousand members at an event (due, of course, to London's demographics), enabling them to host celebrities, hold sporting events, offer seminars and raise funds. Big goals, perhaps, but FinS at five is well on the way to achieving them.
And Eric's dreams spread wider still. FinS-style gay networks are now cropping up in more and more places. From Melbourne, where the idea originated, it spread to Sydney and to New Zealand, and now Eric is helping groups seeking to set up FinS in Tokyo, Beijing and Macau. As Matthew's Gospel has it, Christ himself said that "the tree is known by his fruit," and it seems inevitable then that the fruit by which Eric will long be known will have neither shell nor skin but a suit!