There seems to be a bit of an explosion of gay life and culture in Hong Kong at the moment. It's difficult to account for this in any political way, but the signs are that social tectonic plates are moving inch by inch moving change inexorably forward. I've had difficulty trying to keep track this year of all the LGBT events that have happened here. Aside from the main pillars of the tongzhi community's year (the Hong Kong Lesbian and Gay Film Festival, Floatilla and Pride), the calendar has filled up with gay film, music, theatre, dance and cabaret. The legal, sociological, psychological and cultural departments of our universities have kept the gay torch burning steadily this year, aided by Hong Kong University Press's new Queer Asia series, of which three volumes have appeared since last year.
The Tongzhi Literary Group, founded in 2008, has brought together the two sides of Hong Kong gay writing in bilingual quarterly sessions throughout 2009. Tongzhi online and on air programming has blossomed; RTHK's We Are Family has been joined by a profusion of GDotTV's video programmes and gayradio.hk's on line shows. Later this month, we're about to watch our first Mr Gay Hong Kong pageant and we hear that a gay football team ('One Nil') has taken to the field. It is a fun time to be gay in Hong Kong!
To add to this bounty, two key figures in Hong Kong's tongzhi community have launched a series of public sessions to examine the history of queer culture. Brian Leung (presenter of We Are Family, music critic and writer) and novelist yezhiwei (who, in Hong Kong, also goes under the name of Ip Chi-wai) have both brought out books this year through Kubrick, the local arts publisher. In the process they decided that they'd be better off launching them together than separately. They hit upon the idea of combining their book launches with an examination of queer culture and so put together a series of public events at Starbucks in Hollywood Road (this is something of a coup; I think this is the first time that a Starbucks has opened its doors for a gay event in Hong Kong).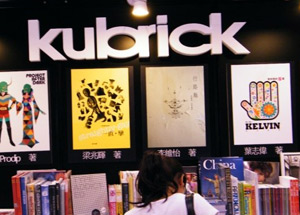 Entitled 'The Gay We Were', the sessions include readings from both authors' new books and a discussion on aspects of gay culture led by guest celebrities. The series kicked off on 11 October with a look at Queer Cinema and featured Hong Kong film maker Kit Hung. Some forty people of all ages, genders and sexualities attended a very lively session of over 90 minutes in the coffee house. The next session is planned for 4.30 pm on Sunday, 15 November and will take a look at Queer Music, guided by cabaret artist Rick Lau (who is just back from his shows at the Edinburgh Festival and London's Leicester Square). The third in the series, an examination of Queer Theatre, will take place at the same time on Sunday, 13 December, with a guest from local showbiz who has yet to be announced. For details, take a look at their Facebook page. The sessions are all in Cantonese, by the way, so they're not for the linguistically challenged.
I met up with Brian and yezhiwei at FINDS restaurant in Lan Kwai Fong to ask them about their books and their ground breaking cultural series. Brian told me first about his book, Straightly Gay, which is a collection of the opening monologues from the RTHK shows he's presented over the last three years. It's his second book; the first was This is England, which was published back in 1990 and was similarly a collection of pieces, though of very different material, much of it focussing on music (Brian's show was playing a lot of English music at the time, hence the title). The new book is Brian's take on what is out there in Hong Kong's gay world and is divided into seven chapters. 'I am' addresses the issues of coming out here and of being identified as gay. 'I do' takes a look at gay marriage, while 'I see' takes the reader to the movies and 'I sing' covers gay music. 'I pray' is, as the name makes plain, about religion and sexuality and 'I fear' about the homophobia it is partly to blame for. The final chapter, 'I hope' (its title taken from Harvey Milk's campaign cry, "You've got to give them hope"), is Brian's own encouragingly optimistic view of where the gay community is heading.
"Our time has come," Brian says. "Ten years ago no one would have dreamed of even discussing same sex marriage. Now the issue is on the table." He thinks that, despite the fundamentalist backlash this has inevitably caused, the tide is running strongly now and that the tongzhi cause will ultimately prevail in Hong Kong.
Yezhiwei is undoubtedly the gay novelist of Hong Kong's current generation. He's been writing novels in Chinese since 2000 and published his first gay novel, Suddenly Single, in 2003. His early promise led to his being taken on by Kubrick as their first contract writer and they've published seven of his novels. In addition, he's published short stories in Dim Sum and in Fe/male Bodies, a compilation by Bookazine, he's written as a journalist in Metro Daily, Dim-sum Magazine, Pi Magazine and 1626 Magazine (which is a monthly youth magazine in China) and he has had a stories produced on RTHK's Radio 2. You can see the full detail of his writing, which is all in Chinese, on his web-site at: Yezhiwei.com.hk.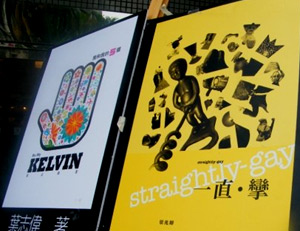 His new book is called Be My Kelvin. He told me that "the story had been in my head for three to four years before I started to write. The novel is about what happens to people who find their true love and believe they are going to live happily ever after." Without giving too much away it is clear that the novel's characters find that life doesn't quite work that way and that dreams may not come so true after all. The novel is the first of a two part work, and the second book, if he can meet the deadline, will come out in the spring of 2010. I asked him about the title.
"When I came out in the '90s, Kelvin seemed to be the most popular name that gay guys had in Hong Kong," he replies, "so it kind of matched my theme. Be my love!"
The novels yezhiwei has written so far are not all about love, though that figures pretty heavily throughout, but encompass every aspect of gay relationships in the wider network of what he has labelled the 'friendmily', the larger circle of friends who sustain a gay man throughout his life. The books are a unique record of the evolution of his ideas on the subject, a progression still far from over. He's even looking at writing a novel on gay marriage, an institution he's far from convinced about. But whatever tale he next comes up with, you can be sure it will be very funny. Yezhiwei has a reputation as a writer who splashes his pages with the most up to date Canto-slang and whose text is a cornucopia of the latest changes in street vocabulary. He also has a very nice reputation for taking the prize for Canto-bitchiness, a facility on display that night at Starbucks when his audience's frequent hoops of delighted laughter could be heard in the street.
Part of the attraction and much of the popularity of yezhiwei's books is the very 'localness' that makes them difficult to translate. He's working at both an English and Mandarin translation of Suddenly Single at the moment and finds it very hard to do, the Mandarin strangely harder than the English. Grammar is of course not the problem, but finding the right street idiom in each language is the real difficulty. Non-Cantonese readers can only hope he succeeds.
After the success of their first queer cultural session, both authors are now sold on the idea of further gatherings, not so much to publicise their books (they're a bit shy about doing that) but to help expand local gay culture. They hope to begin to emulate Taiwan's much more massive gay literary output by encouraging new authors to take up their pens. Starbucks, too, is keen to extend the series and it looks like it may be possible to expand to other branches. There's talk of a monthly event, but in truth both are so heavily engaged that without help that would become a burden. Brian, for instance, has mobilised local artists (Soler, Takki Wong and Joman Cheung) to perform with his We Are Family gang at the Pride Parade after-show at Chater Garden held over a week ago. He'll also be acting as MC for the upcoming first-ever Mr Gay Hong Kong on 28 November.
Yezhiwei is deep into writing his next novel (often till 3 am, and he has a day job too!). As their Facebook site puts it, "The road to Queer-dom has never been an easy walk in the park," but as both of them are well used to this type of trekking, we can expect to see more of their culture fest unrolling as the months pass by.