It was going to be fabulous.
Eight handsome men in skimpy underwear, a drag show, singing, dancing, and China's first ever national gay beauty pageant. The organisers, local gay events group Gayographic said Mr Gay China "will undoubtedly contribute to the positive development of the LGBT community and raise awareness of relevant issues." The foreign media was heralding it as the next big step forward for China's gay community. The winner would head for the international Worldwide Mr Gay competition to be held in Oslo, Norway next month.
But it was not to be.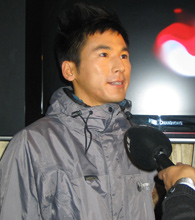 Top of page: Simon, one of the eight contestants at the event on Friday night. Above: Contestant Steven being interviewed by a reporter.
An hour before the show was about to start at LAN Club, a plush bar near Beijing's CBD, eight or so police officers clumped in and told Ben Zhang, the man behind the competition that as he hadn't got permission the event was off.
The police said: "the content, meaning homosexuality, there is nothing wrong with that. But you guys didn't do things according to the procedures. So you have to go out there and cancel the show," a disappointed Zhang told journalists on Friday night.
Many of those taking part or helping out said they were expecting this.
"I am disappointed," said American Ryan Dutcher, Zhang's boyfriend and co-organiser of the contest. "We worked very hard for this. But it's not surprising. We kind of had this in the back of our heads."
The police said that since the event contained shows – singing and dancing – Zhang should have first secured permission. As Zhang was corralled with the police for most of the night, Dutcher was fielding questions. He said Gayographic had left that part of the organising to the club. "They have events here all the time," he said. "We left it up to them to organise. We thought they would know what to do."
One of the eight contestants, Steven, 30, took the news with equanimity.
"You can say I was already prepared for this outcome, but then you can say I wasn't prepared because we were just about to start when the police stopped it," he said, giving a little laugh. "I am a little disappointed. But you know you can't control this so there's no point in getting too upset."
Great progress has been made in terms of gay and lesbian awareness and the fostering of a GLBT community in China over the past decade. Along with economic advancement and the improvement of people's rights in general, homosexuality was removed from the list of official mental illnesses in 2001, gay and lesbian bars and saunas have sprung up in most major cities, and the domestic press have been more open and more sympathetic in their coverage of GLBT issues. Amid efforts to curb the spread of HIV, the government appears to allow gay support groups to exist and grow. Last December, the local government even helped set up a gay bar in the tourist town of Dali in order to improve safe sex knowledge.
The problem arises, say commentators, when events are high profile or have a political content and are well organised. Mr Gay China was the biggest gay story among western media since last year's Shanghai Pride, which also suffered police interference. A few events including a play and a film showing were cancelled then. But a few days before Mr Gay China, Zhang said: "We've got more media even than the Shanghai Pride."

Top row (left to right): Steven, David, Xiao Dai, Emilio;
second row: Simon, Xuefei, Jay, Justin
Read 8 candidates vie for Mr Gay China title on Fridae.

The intense western coverage – which started a weekend before after Zhang held a press conference curtain raiser to the contest – sparked domestic media coverage. Zhang had purposefully avoided promoting it locally because he thought that might get the competition shut down. Also, many of the contestants wanted to keep a low profile domestically since they were not all out to their family and friends. But it out got out of control.
While there is no widespread homophobia in China similar to that of the West, not everyone is gay friendly. The Chinese language coverage of Mr Gay China on the Internet news portals of Sina and Sohu had sparked some nasty responses which ranged from obscenities such as: "Fuck! It makes me feel fucking sick! Beijing is holding this?" to "We might as well hold an incest beauty competition," to "How come there are no beautiful girls?"
Many of those present thought the competition could be held another day, but more low key.
"I expected this to happen," said Jeff Lin, a painter and photographer. "Police came to the gay art festival in Beijing last year and took away some paintings. It always happens this way. But I think we can hold it again. We always do. The police cancel it and then we do it again and it's ok."
How about this year?
"I don't know. I hope so," he grinned.
Dennis Sebastian, the organiser for the Asian contingent of Worldwide Mr Gay said: "It's crazy. It's terrible," that the police had shuttered the show. But he added that he hoped Zhang and Dutcher could still choose one of the eight to go to Oslo. "They have been in close touch with the contestants for the past month, I am sure they could choose a suitable candidate, " he said, adding it was very important for China to send an entrant.
In the aftermath of the police gatecrash what was most noticeable was that despite the last minute ban and the obvious disappointment, there was no anger, no riling against authority.
Someone had scrawled: "Oh well, let's try again," on the front board near the entrance to the show.
Simon, another contestant slipped into his first costume for the night: green jeans, outlandish purple furry shoulder pads, bare chest and black elastic straps and posed for photographs. He grinned and danced and at one point yelled: "Being gay has made me what I am today!"
There was laughter and a smattering of applause.