This week we put the spotlight on gay and AIDS activist Prince Manvendra Singh Gohil, the 39th direct descendant in the 651-year dynasty of Rajpipla and the first Indian royal to come out as gay; and Bhumika Shrestha, who at only 23 was officially sworn in as a member of the Nepali Congress making her the first representative of the transgender community in Nepal's ruling political coalition.
This list is by no means exhaustive, but we are sure that this handful of extraordinary individuals will encourage and inspire you. If you know of anyone who you think is doing an amazing job for the greater good – whether they be activists or artists, entrepreneurs or entertainers, send us their details at editor@fridae.com.
---
Bhumika Shrestha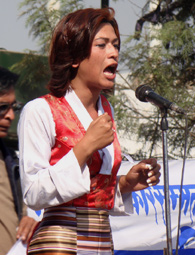 Bhumika Shrestha
After six years of active community work, Bhumika Shrestha is a shining example of the monumental change that is characteristic of Nepal's fast-evolving political landscape. A member of the Blue Diamond Society, which also has Sunil Babu Pant – Asia's first openly gay Member of Parliament among its ranks – Shrestha, who is only 23 years old was officially sworn in as a member of the Nepali Congress, the same political party as the country's first elected Prime Minister B.P. Koirala. This act has propelled Shrestha to become the first representative of transgender community in Nepal's ruling political coalition.
A verdict passed down from the Supreme Court in 2007 resulted in protection against discrimination for Nepal's LGBT community. Since that day, the likes of Pant and Shrestha have been working tirelessly to translate this legal decree into a fact of life for everyday people.
In the last 12 months, Blue Diamond Society has stepped up its game and pushed to promote Nepal as Asia's "gay mecca" with package tours enticing same-sex partners to marry on Mount Everest or elsewhere within the country's borders. There is a great deal of work to be done, but this former Miss Pink Nepal of 2007 is sure to be a catalyst of change in months and years ahead.
æ: Why do you do this work?
By heart, being from this community, I am passionate to work for my community. I myself am a victim of discrimination and stigma because of an intolerant society and state. I have gone through a series of abuses and discrimination in all the community sections – educational institutions, employers, state bodies and security bodies. I am personally determined to end this discrimination towards my community. We now have changing perceptions in Nepalese society. Thanks to the Supreme Court's verdict in 2007 which prevents state and non-state institutions from conducting systematic violations upon us, the political climate is slowly becoming positive towards us. The Constituent Assembly, meant for building a new inclusive constitution, has addressed our issues. This Assembly is a model of inclusion for the diverse communities in Nepal. Sunil Babu Pant, the first Asian gay MP is paving the way for community's voice in parliament. Overall, the environment in Nepal is quite encouraging. Still, the struggle is not over. Overall acceptance in society is still a far from won. Me, together with sexual and gender minorities, will continue to push boldly to create an inclusive society.
æ: How do you think you can make positive change happen in 2010?
The social and political environment is ripe enough for inclusion of the LGBTI community in constitution, political party and mainstream societal affairs after the verdict of Supreme Court 2007 AD. These phenomena are charging LGBTIs with hope that a better life will the only way forward.
æ: What is your message to people who stand in your way?
People can be changed. Best way is to sensitise them. Here in Nepal, we followed a soft way of sensitising anybody who stood before us. Almost everyone has changed positively towards us. I would say, "please try to understand us". We are human ultimately.
Bhumika Shrestha can be contacted via the Blue Diamond Society at www.bds.org.np.
With contributions from Laurindo Garcia, Patty Tumang and Sylvia Tan.