Nepal's Blue Diamond Society (BDS) announced that it would hold the first gay pride parade alongside their annual Gaijatra International Pride Festival which would be their ninth this year.
The parade is slated to be held in 25 August 2010 at Basantapur Durbar Square in the capital city of Kathmandu.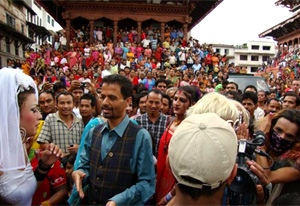 Sunil Pant (in blue shirt), founder of the Blue Diamond
Society and Nepal's only openly gay member of
parliament. Photos from www.bds.org.np
In December 2007, Nepal's Supreme Court ordered the government to scrap laws that discriminate against gays. Although Nepalese laws did not explicitly criminalise homosexuality, unnatural sexual acts" which are not defined may be punishable with up to 1-year in prison and/or a 5000 RS (US$66) fine under the bestiality chapter of the country's civil (criminal) code.
Following the court ruling, Nepal also became the first country in the world to officially recognise a "third gender". Sunil Pant, the founder of BDS and a member of Parliament, told Fridae in an interview in 2008 that the government had started to issue identity cards to sexual minorities such as metis (biological males who typically have a feminine orientation and physical appearance but may or may not wish to undergo sex realignment surgery) who have been previously denied any kind of official documentation.
BDS explains in a statement on their website that the festival of "Gai Jatra" (festival of cows) is one of the oldest and most unusual of the many festivals celebrated by the Hindus/Buddhists of Kathmandu Valley, and why they are adopting the centuries-old festival as a backdrop to the gay pride parade.
"Some say the custom goes back more than a millennium, to the time of the Licchavi kings. Falling on the day after Janai Purnima, the full moon day of August, Gai Jatra is a day for remembering those who have died in the past year. In addition to praying for their departed loved ones, family and friends of the deceased commemorate them in great processions, which wind their way through the streets of the ancient Newar towns of Bhaktapur and Kathmandu.
"Despite its associations with the dead, the festival procession is not a dour or solemn event. In fact, there is a great deal of merry-making connected with it. Many of the participants wear outlandish costumes. Traditionally, a good number of the young Newar men in the procession dress in women's clothing. Over the centuries, the Gai Jatra Festival developed a second purpose. In the days when political expression of any kind was outlawed, Gai Jatra was the day when ordinary citizens could vent their frustrations through political and social satire, without fear of reprisal from the rulers.
"Given this history, Gai Jatra seemed to be a ready-made occasion for the Blue Diamond Society, the Nepalese sexual and gender minority association, to stage Nepal's inaugural Pride march."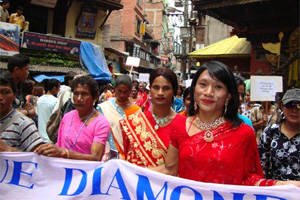 ---
2010 Gaijatra: Blue Diamond Society International Pride Festival
Theme: To end discriminaton; To end poverty and To promote tourism in Nepal
Date: Aug 25, 2010
Time:
14:00 Gathering at Durbar Marg, front Of former Royal Palace with colorfully decorated floats of many local LGBTs representing their districts.
14:05 Rally starts and proceeds through the Clock Tower (Ghanta Ghar), Kamladi, Pulisadk, Thindikhel, Tripureswor, New Road, Hanuman Dhoka, the palace square of Kathmandu, Ranipokhari and Back to Durbar Marg. The highlight of the annual festival, and this year's theme is "end discrimination, end poverty and promote tourism". A colourful and light-hearted parade, consisting of highly decorated musical band, groups of walking performers plus costumed marchers representing various third genders, lesbians, gays, friends, family and queer-friendly groups with Musical Hangama, colourful carnival, A massive Condom Promotion and distribution, And calling to end all forms of discrimination, to end poverty and promotion of travel and tourism in Nepal.