Singapore Senior Minister of State for Foreign Affairs Balaji Sadasivan, who was battling colon cancer, died early on Monday morning. He was 55. Dr Balaji leaves behind his wife and two children.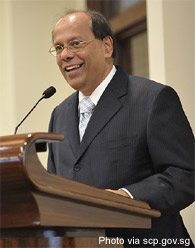 The late Dr Balaji Sadasivan was appointed Chairman of the National AIDS Policy Committee in 2006 when he was at the Ministry of Health. He continued his role although he left the Health Ministry the same year until his death.
In 2005, Dr Balaji, who was then the Senior Minister of State for Health, attracted the ire of the gay community in Singapore when he blamed gay men's unsafe sexual practices as the primary contributor to the country's increasing HIV infection rates.
He quoted an unnamed epidemiologist who hypothesised that the spike in HIV infection rates might be linked to the annual Nation parties organised by Fridae from 2001 to 2004. He said the parties could have "allowed gays from high-prevalence societies to fraternise with local gay men, seeding the infection in the local community".
Nation 2004 was to be Fridae's last party in Singapore. The same year, the police turned down Fridae's application to hold a Christmas party, deeming it contrary to public interest.
Dr Balaji was a neurosurgeon until he entered politics in 2001. He earned his medical degree from the University of Singapore in 1979 and became a Fellow of the Royal College of Surgeons in 1984. He then trained in neurosurgery at the Henry Ford Hospital in Detroit, followed by a Fellowship at Harvard University.
In 2006, he was appointed Chairman of the National AIDS Policy Committee when he was at the Ministry of Health. He continued his role although he was appointed senior minister of state for foreign affairs and information, communications and the arts the same year. In April this year, his responsibility was confined to the ministry of foreign affairs.
Dr Balaji was known to have championed various initiatives to encourage early and regular HIV testing, the most notable of which was the implementation of universal antenatal testing. He was also a strong proponent of HIV education in schools and workplaces.
In 2007, Dr Balaji was the guest-of-honour of a concert in Singapore that was held to raise raise funds for Action for AIDS and raise awareness of HIV and AIDS in the gay community. The concert featured Los Angeles-based gay pop singers Jason and deMarco who were banned in 2005 from performing at a similar concert in Singapore. At the time, the Media Development Authority (MDA) rejected an application by the organiser, Safehaven, a gay-affirmative Christian support group, for an Arts and Entertainment Licence saying that "alternative lifestyles are against the public interest." He was the only minister known to have attended a predominantly gay event in Singapore.
The same year, the late former neurosurgeon led the first study trip of its kind comprising a delegation from the Health Ministry, and representatives from Fridae, Action for AIDS and LGBT-affirmative counselling group Oogachaga to Sydney to study their prevention efforts.
Relating the "invaluable" lessons learnt in Sydney, Dr Balaji was quoted as saying by Today newspaper in 2007 titled When both hands work together...: "The health authorities supported the NGOs in the community, and in return the NGOs were sensitive to the conservative majority.
"This cooperation between NGOs and the health authorities – reach out to the MSMs, but at the same time, don't upset the conservative majority – is the key to their success."
The "Sydney model" was so named after the Australian city became one of the few places where HIV infection rates amongst gay men had stabilised or fallen. The approach centres on several factors including continual and sustained investment by public health departments in targeted interventions for those most at risk for infection, especially men who have sex with men; and collaborative partnership with community based organisations which are in the best position to design, develop and deliver these interventions.
"Contrary to what many people believe, Dr Balaji was a friend to Singapore's gay community," said Dr Stuart Koe, CEO of Fridae who was part of the study team to Sydney in 2007.
Under Dr Balaji's leadership, the strategy has since been adapted and applied in Singapore, resulting not only in a significant increase in funding of MSM-targeted HIV programs, but also succeeded in involving gay community leaders in the strategic planning process, said Dr Koe.
"Dr Balaji was never afraid to speak his mind, but he had a great capacity to ask the right questions and listen to what people were telling him. His leadership is responsible for the significant progress we have made in HIV prevention in the Singapore gay community."
Dr Koe added that this collaborative approach has started to reap results in recent years – with infection and prevalence rates amongst MSM in Singapore falling for the first time in recent history.
Dr Roy Chan, President of Action for AIDS and director of the National Skin Centre, who had worked closely with the late Dr Balaji for many years after the latter took on the task of leading the government's AIDS programme in 2002, said in an email to Fridae: "The late Dr Balaji rapidly became intimately familiar with all aspects of AIDS prevention, advocacy and support. He provided the greatly needed political leadership and support for Singapore's AIDS programme. Among his notable accomplishments were the support for school-based sexuality education, increasing access to HIV testing and treatment, and enhanced support for HIV-infected individuals."
Dr Chan added: "He showed sincere personal commitment and concern for HIV-infected individuals and affected communities. He was always ready and willing to grace awareness and fund-raising events, conferences and gatherings to push the message of AIDS prevention and awareness. I think his greatest achievement has been the expansion of AIDS prevention programmes that were made possible by an increased budget and resources.
"AIDS awareness and prevention advocates and activists in Singapore were fortunate to have Dr Balaji to champion our cause. His support and guidance will be sorely missed. We would like to extend our deepest condolences to his family."
The wake for Dr Balaji Sadasivan is being held at Cheng San community club, an area in the Ang Mo Kio GRC, where he was a Member of Parliament.
---
C. S. Zhou, founder of LGBT-affirmative Oogachaga's counselling services, remembers Dr Balaji:
The gay community sometimes treated him as anti-gay but the little time I have had with him I learnt that he was a man of much magnanimity, a doctor to the end.
We were at lunch in Sydney where we had gone on a study trip. I made sure I sat beside him. In the middle of the lunch, I leaned over and said, "Dr Balaji, remember Jason DMarco? We are planning again to hold a concert." He looked startled and a little dismayed. I assured him that it will be done responsibly. He replied, "Ok. Go through the regular channels. Get in touch with me if you run into any hurdles." And that was it.
When Alf applied for the permit, it began to look like he wouldn't get it and the MDA wanted to meet. I wrote to Dr B. He replied, "Get Alf to meet the MDA and tell them I will be the guest of honor." The Hope Concert to pass out the message against HIV went out to 900 people that night. Jason & DMarco who were banned the last time, appeared and performed here. Safehaven delivered on its commitment to him and he to Safehaven.
In Sydney, he spoke about setting up a community centre for gay people. I don't fully understand why - perhaps people were afraid the move would ghettoize gay people - but the team did not seem keen. I have always thought it was an opportunity lost.
In another meeting the discussions became frank. I got into my assertive self. Later as we went for a toilet break, he thanked me. A lesser man would have felt my comments and argumentation disrespectful of a Minister. But he took the comments for what they were and did not let his ego get in the way. In that and other acts, I saw the true measure of this man. It was an honor.
I shall miss you Dr Balaji.
The above is republished with permission from the author.