A 47-year-old Singaporean man identified in the media as Tan Eng Hong has been charged with Section 377A of the Penal Code, which criminalises sexual acts between men. If convicted, the accused faces up to two years imprisonment.
Tan is alleged to have committed the offence in March with another consenting male inside the toilet cubicle of a popular shopping mall.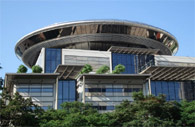 The Supreme Court of Singapore building and where the High Court is located
Last Friday, Tan's lawyer M Ravi filed an application in the High Court to challenge the legality of Section 377A.
According to Today newspaper last Friday, Ravi said in his eight-page application: "The continuance of Section 377A on the statute book operates to brutalise a vulnerable minority segment of the citizenry for no fault on its point. A section of society has been thus criminalised and stigmatised to a point where individuals are forced to deny the core of their identity and vital dimensions of their personality."
In a statement published on its website on Monday, gay advocacy group People Like Us declined commenting on the constitutional challenge that Ravi initiated on behalf of his client as the matter is now before the courts.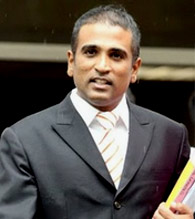 M Ravi, a prominent human rights lawyer in Singapore
PLU stated that while the group does not condone "sex in public spaces where conflict with other members of society can occur" and it does not disagree that such acts may be prosecuted, the state should do so "using gender-neutral laws, so that whether the specifics are same-sex or opposite-sex, there is parity in treatment."
The statement pointed out that Section 20 of the Miscellaneous Offences (Public Order and Nuisance) Act which makes "indecent behaviour" in public an offence and is written in a gender-neutral way could be used instead of Section 377A.
Section 377A mandates a prison sentence, but Section 20 gives the judge a choice of imposing a fine of up to S$1,000, or a prison sentence of up to one month, or both, for the first offence.
"It is regrettable that prosecutors have chosen to use Section 377A instead of this one, especially since the penalties are dissimilar," the statement read.
"Given the disparity in penalties, any decision to use Section 377A precipitates discriminatory treatment, and it is for this reason that People Like Us consider it an inappropriate law to use. Section 20 of the Miscellaneous Offences (public Order and Nuisance) Act being available, it is hard to understand why prosecutors are still choosing to use Section 377A; or what beliefs underlie the decision to perpetuate the use of this law."
PLU quoted Prime Minister Lee Hsien Loong who declared in October 2007 that Section 377A will not be "proactively enforced".
"The current prosecution of Mr Tan raises questions about what the Prime Minister meant when he said that. Even if the State does not actively seek out men who have sex with men to prosecute but rely instead on private security guards to report, such an argument ignores two important facts:
1. the State has discretion whether to charge them under Section 377A or another law;
2. the continued existence of Section 377A legitimises homophobia and the private vigilantism of security guards, who then take it upon themselves to do the proactive work that the State says it does not do."
The group further called on the Singapore government to take immediate steps towards legislative repeal of Section 377A, and that the Prime Minister's October 2007 promise not to proactively enforce this law should be honoured through a total moratorium.
Last week, two men identified in the media as Muhammad Noor Izuan Sa'ad, 23, and Timothy Ang Ah Sai, 49, were jailed for four weeks yesterday for gross indecency and giving false information to the police, and two weeks in jail last month for gross indecency respectively. Gross indecency refers to Section 377A of the Penal Code of Singapore which criminalises sex between mutually consenting adult men. The court heard that the pair was seen behaving suspiciously and entering a toilet at Mustafa Centre on Nov 14 last year. They were detained after a security officer alerted security. When Muhammad Noor was interviewed by the police, he lied that Ang had molested him but eventually admitted it was he who committed an indecent act on Ang.