A English-language newspaper in Uganda has published a list of the country's 100 'top' homosexuals with the headline 'hang them'.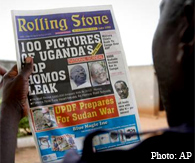 The Oct 9 article, which included photos, full names and addresses, was published by a newspaper called Rolling Stone (not linked to the American magazine of the same name) came out five days before the one-year anniversary of the controversial proposed "kill the gays" bill.
The proposed bill, which has attracted international outrage since it was announced last year, would impose prison terms for Ugandans who fail to report a homosexual within 24 hours, and the death sentence for homosexuals who had sex with a person under 18, who is HIV-positive and had sex, had gay sex with a disabled person or being classified as a "serial offender" – that is, someone who has gay sex more than once.
David Bahati, the lawmaker sponsoring the bill, was quoted by investigative journalist Jeff Sharlet – in an article in the September 2010 edition of Harper's Magazine – as saying that his objective is "to kill every last gay person."
According to the Associated Press, since the publication of the list, four men have been attacked and many have gone into hiding in fear of their lives. One person had stones thrown at their house by neighbours.
The report also quoted Frank Mugisha, the chairman of Sexual Minorities Uganda, as saying that more than 20 homosexuals have been attacked over the last year in Uganda, and an additional 17 have been arrested and are in prison.
He said those numbers are up from the same period two years ago, when about 10 homosexuals were attacked aftersince the proposed bill was announced.
Giles Muhame, the paper's managing editor,said the article was "in the public interest."
"We felt there was need for society to know that such characters exist amongst them. Some of them recruit young children into homosexuality, which is bad and need to be exposed," he said. "They take advantage of poverty to recruit Ugandans. In brief we did so because homosexuality is illegal, unacceptable and insults our traditional lifestyle.'
Following worldwide condemnation, the bill is said to have been quietly shelved although not completely dropped.