Chin Chee Shyong was convicted under Section 294 of the Penal Code on Wednesday for having oral sex with another man in a shopping mall toilet cubicle on March 9.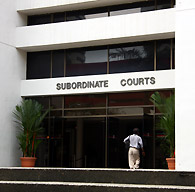 The Straits Times said the police received a call from a waiter working at a nearby cafe who had complained of two men having oral sex in the toilet. The waiter and a colleague went to the toilet where the latter recorded the pair having sex on video. The pair however had left the toilet before the police arrived.
Shortly after, the complainant called the police again when he saw another two men entering the toilet. Police then confronted Chin and his partner Tan Eng Hong, 47, and asked the two to come out of the cubicle.
The Times reported on Wednesday: "Sensing a delay, Sergeant Mohd Faizal Bin Rosli climbed on top of the toilet bowl in the third cubicle and saw Tan, wearing only his shirt, throwing an unrolled condom into the toilet bowl. Sgt Faizal told Tan not to flush and to open the door.
"When Tan opened the door, Sgt Faizal climbed on top of the toilet bowl in the second cubicle and saw Chin putting on his socks. When grilled by police, Tan admitted to performing fellatio on Chin. The two were arrested."
Chin's charge was amended from Section 377A, which prohibits sexual relations between men and imposes a jail term of up to two years, to Section 294A which imposes a jail term of up to three months, or with fine, or with both.
In September, gay advocacy group People Like Us in a statement with regards to Tan's case urged the state to use "gender-neutral laws, so that whether the specifics are same-sex or opposite-sex, there is parity in treatment."
Tan has not been sentenced and is presented by M Ravi who filed an application in the High Court to challenge the legality of Section 377A.
According to Today newspaper on Sept 24, 2010, Ravi said in his eight-page application: "The continuance of Section 377A on the statute book operates to brutalise a vulnerable minority segment of the citizenry for no fault on its point. A section of society has been thus criminalised and stigmatised to a point where individuals are forced to deny the core of their identity and vital dimensions of their personality."