A 26-year-old local activist and his friend were attacked by five men right on 4th Street in downtown Austin, Texas – where several gay bars are located – at about 1.30am on Sunday morning.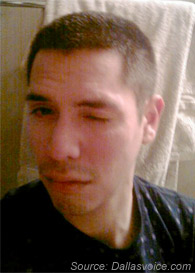 Bobby Beltran is a gay activist who helped organise this year's QueerBomb in Austin, Texas.
The Dallas Voice, a gay newspaper, reported that Bobby Beltran an activist who helped organise this year's QueerBomb in Austin and his friend had hugged each other goodbye on the sidewalk after leaving a gay bar when some men in a passing vehicle yelled, "Fucking faggots, stop that queer shit!"
As Beltran yelled at the men to "get out of here," all five of them jumped out of the vehicle which they left in the middle of the street, and attacked him and his friend for several minutes.
Beltran said he fought back but sustained cuts and bruises and a black eye while his friend may have suffered a broken jaw, the Voice reported. Their attackers then quickly drove off.
He told the paper: "I've never in my life been in any kind of violent situation, especially a hate crime, so it's been pretty traumatic. Austin is supposed to be a gay haven, especially on 4th Street. What scares me even more is that nobody even helped.
"I come from Brownsville, Texas. Even down there I was out since I was 13, and I never got picked on in high school. To find out that it's here in Austin on 4th Street, and knowing that fellow gay men were not doing anything about it, is just shocking."
Beltran also said he yelled out the license plate of the vehicle as he ran after the attackers, but no one wrote it down and he doesn't remember it.
The incident is the third anti-gay attack reported in Austin this year.
---
What Would You Do?
American television network ABC's "hidden camera, ethical dilemma series" What Would You Do? decided to see how people would react if they witnessed a hate crime – in this case a Hispanic man being attacked on the street.
This experiment was inspired by a real life incident when Jose Sucuzhanay was walking home from a party in Brooklyn, N.Y., in December 2008 when two strangers attacked him with an aluminum bat. The Ecuadorian died a week later from his injuries.
From a control room nearby, his brother Diego Sucuzhanay watched people's reactions and many of them walking on by as the "victim" was attacked and on the floor begging for help.
"Some of them appeared Latino themselves," the host of the programme John Quinones himself noted. "You would think they would jump in."
But why didn't they? It's interesting to watch men decide to do nothing and/or say they were afraid that the gang would turn on them while a petite young woman got out of her car and physically intervened.
Other videos: