Uganda's notorious "eat da poo poo" Pastor Martin Ssempa, who infamously tells national audiences that the preferred sexual practice of gay men is eating human feces, has been charged with attempting to blackmail another pastor.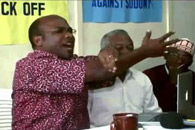 Pastor Martin Ssempa, who campaigns actively for Uganda Anti-Homosexuality Bill, is also widely known for showing and giving graphic descriptions of what he thinks gay sex is at his Ugandan church to "horrify" his audience.
The investigation reportedly began last year when allegations involving Pastor Robert Kayanja of Kampala's Rubaga Miracle Centre Cathedral surfaced, but those claims were later retracted, and now Ssempa and others are themselves being investigated.
Uganda's New Vision news website reports on Dec 30 that Pastors Ssempa, Solomon Male, Michael Kyazze and Bob Kayiira are supposed to appear in court on January 4. Also to appear are Anita Kyomuhendo, a State House employee, and one David Mukalazi. Two city advocates, Henry Ddungu and David Kaggwa, who were originally charged along with the six, were later dropped from the charge sheet due to lack of evidence.
According to Uganda's Daily Monitor website, Sempa is accused of hiring one Robson Matovu to blackmail Kayanja. The court heard that Male reportedly gave Matovu a signed and stamped affidavit implicating Kayanja while Kayanja's 19-year-old accuser Samson Mukisa was reportedly promised necessities on condition that he would speak publicly on how Kayanja had sodomised him.
Local media reports quoted a police report indicating that complaints of sodomy against Kayanja did not reveal any evidence the offences. "In retracting their statements, the complainants said they had been mobilised to make false accusations against Kayanja in order to tarnish his name," reads a report.
This development comes after various international headlines Ssempa has recently made regarding his strong support of the Uganda Anti-Homosexuality Bill that would make same-sex sexual relations punishable by life imprisonment or death, and anyone who doesn't report a known homosexual within 24 hours will be subject to imprisonment.
Ssempa is also widely known for showing and giving graphic descriptions of what he thinks gay sex is at his Ugandan church to "horrify" his audience.
Meanwhile, Jim Burroway, editor of the Box Turtle Bulletin blog, which has been following the developments of the proposed bill in Uganda very closely, notes that the rivalries between the pastors are "so complex that it takes some diagramming to keep it all straight" as well as the implications of this story in the context of Uganda's current political climate.
"Public charges of sodomy are a common way to settle political and other scores in Uganda. Should the proposed Anti-Homosexuality Bill become law with its death penalty and other heightened penalties for advocacy on behalf of LGBT people or failure to report gay people to police, such conspiracies will increase and carry far greater dangers. The bill will mean that no one will be safe, including straight people."
---
"We Do Not Want This Sickness. Eat Da Poo Poo."
Pastor Martin Ssempa says as he demonstrates fisting and rimming,
and shows graphic images of gay sex on a computer
to a roomful of journalists and religious leaders:

To watch Missionaries of Hate, a 40-minute film by Vanguard's
Mariana van Zeller which documents the influence of US
evangelical Christians on Uganda's anti-gay bill, click here.