Thailand's health authorities have launched a pilot project to dispense free condoms at entertainment venues frequented by gay men as HIV surveillance data continue to indicate a high HIV transmission rate among MSM in Thailand due to unsafe sex.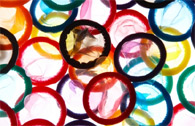 Of the estimated 10,097 new HIV cases expected this year, 30% would involve men having sex with men, according to the Public Health Ministry, the Bangkok Post reported on Mar 31.
Under the 'Condom Point' programme, purple plastic boxes filled with 300 condoms of different sizes and lubricant gel packs will be installed at entertainment spots such as discos, karaoke bars, fitness centres, saunas and beauty salons.
"If we don't come up with any prevention plan, this MSM group could account for half the total new cases in the country in the next 14 years," Public Health permanent secretary Paijit Warachit was quoted as saying by the Post.
Some 188 entertainment nightspots in 30 provinces including Chiang Mai, Chon Buri and Phuket have agreed to participate. Dr Paijit added that the programme is planned to cover entertainment spots nationwide by next year.
An estimated 2.5 million baht (US$82,600) in funding was allocated for the project this year.