Island of Demons
Nigel Barley
Paperback: 392 pages
Publisher: Monsoon Books Pte. Ltd. (February 16, 2010)
Language: English
ISBN-13: 978-9810823818
The idea of an earthly paradise, and the possibility of escaping to it, has been in mankind's imagination since the dawn of recorded history. The Biblical Garden of Eden was by no means the first of these, though it, and its accompanying theme of the destruction of paradise by man's foolishness or sin, is the example widest known in the West.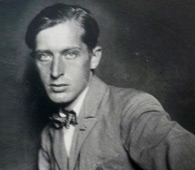 Walter Spies (15 September 1895 – 19 January 1942)
Walter Spies, polyglot German, film maker, writer and, above all these, artist, fled the West to find paradise in the East, and, arriving in what was then the Dutch East Indies (which since independence has been Indonesia) he found it in Bali. He was to stay there from 1927 for the rest of his life, devoting that life to Balinese culture, which he brought, largely through his unaided efforts, to the attention of the western world. For something like a decade his fame spread around the globe, bringing in return a steady stream of intellectuals, celebrities, royalty and artists to his house in Ubud and later to his mountain retreat at Iseh. He helped found a Balinese artistic cooperative, the Pita Maha, and established for all time in the mind of the West the idea of Bali as an earthly paradise.
In doing so, in a process that had begun long before his death, he helped destroy the thing that he loved (to which anyone who has endured Kuta nowadays will readily assent), by opening up what had until then been a unique, pristine Hindu society sandwiched between the Muslim islands of the archipelago. His great love for the Balinese people, and theirs for him, for he was universally adored there, was in part due to his homosexuality. He lived an almost openly gay life at a time, and in a colonial place, where this was still perilous, and he painted the beauty of Balinese men as he made love to them. Thus he ate the fruit of the forbidden tree that grew in his own paradise and it was to destroy him.
In 1938, the Dutch, carrying out a purge of homosexuals in the Indies, arrested and tried him. He was convicted and went to jail. Released in 1939, he was back in jail soon afterwards, interned as a German alien as the Nazis overran Holland at the start of the Second World War. As Japanese forces descended upon the Indies, to finally destroy the paradisical dreams of its white rulers for ever, Spies was shipped off to Ceylon, only to drown en route when a Japanese plane torpedoed his ship.
Island of Demons is a fictional account of Spies's life, though one seen through the personal story of its narrator, the (real) Dutch painter Rudolf Bonnet, who joined Spies in Ubud in 1927 and also stayed there for almost the rest of his life, painting, more in fact than did Spies, pictures of the beauties of the people, and mostly of its men. Bonnet, too, was homosexual. He has been described as the 'nuts and bolts man' who acted as a foil to the flamboyant and insouciant Spies, so he makes an ideal narrator for the book, the sub-text of which is the relationships of both men with the Balinese. The novelist uses both men's lives to examine the attractions and contradictions of the gay western men attracted to Asians. This is a subtle, touching and convincing rendering, and one that a reader might perhaps guess derives from the life experience of this novel's author, Nigel Barley, though of course no publisher would say so.
Barley is an anthropologist and Keeper at the British Museum who turned writer in 1983 with a humorous account of anthropologists' field trips in The Innocent Anthropologist: Notes from a Mud Hut. He puts his own experience of this life to good use in this novel, and it undepins his very funny portrait of the renowned and redoubtable American anthropologist, Margaret Mead, who was for long one of Walter Spies academic guests on Bali. Barley writes much on Asia, most recently publishing an account of the mutiny amongst British Indian Army troops in Singapore during the First World War (Rogue Raider: The tale of Captain Lauterbach and the Singapore Mutiny). One of his earlier non-fiction works, White Rajah: A Biography of Sir James Brooke, touched on an earlier westerner who went east to find, then rule, a paradise. This was James Brooke, founder of the white rajah dynasty of Sarawak, himself, too, homosexual. Nigel Barley clearly has sympathy for such men, a sympathy he puts to good use in his writing.
Island of Demons is in many ways a very beautiful book. It is a highly compelling portrait of Spies, a man whose charisma was itself highly compelling to almost all who met him and whose mercurial character could never be approached so well in a work of non-fiction. This is a novel with many engaging portraits of the great and the good, people who lighted on Spies and his island paradise. Charlie Chaplin, Noel Coward and a cast of many who were then famous, but who by now have sunk to obscurity, pass amusingly through its pages. Barley's deft pen has a sure touch in bringing these characters to life. He is faced, inevitably, with the difficulty that he found just so many of them to include, for Walter Spies suffered over a decade of having to provide such people hospitality. This is, I think, the only flaw in this jewel of a novel, for there is an unsolveable paradox for the novelist in the fact that the paradise Bali represented was static (time for the Balinese is circular) whilst the changes that affected Spies after his arrival and before his untimely end were all lineal and were largely those inflicted on him in serial fashion by all these visitors. Maybe fewer of them would have helped both subject and author.
Barley is at his best in describing Bali, its scenery, its culture, its complete allure, and of course its men. As an example, let me quote the passage where he lets Spies speak for his own love of Bali, a love, evidently, shared by the novelist:
All islands are magic because they are complete worlds with their own sea, sky and land, a separate reality. Islands are the stuff of our dreams, the only place they can live in the modern world. And Bali is also a special land with volcanoes, forests, lakes, rivers, ancient ruins too. Islands are the universe in miniature but separate, subject to their own laws, places where the rules of mankind have no force. People here live in harmony with nature which is why their culture lies so lightly upon them whereas ours crushes us under its wheels and squeezes the lifeblood out of us like a great machine. Here people work together to make beauty which is at the centre of it all. All the priests, musicians, dancers, artists are part of life, grow their own food with their own hands, feed their children and loved ones with the fruit of the fields that surround them. I have looked all my life for a place where I would know how to just be. Bali is that place. It has driven me sane.
That island, which now exists only in man's imagining, is recreated between the covers of the Island of Demons. This is a novel that contains a world inside itself, a paradise that was lost. Reading it may go a just little way to make you, too, sane, but also very, very sad.
Buy Island of Demons
on Amazon.com.
Correction: Margaret Mead is an American anthropologist, not British as the review originally stated. The article has been corrected.