I have been chasing Pichead Amornsomboom for an interview ever since I started writing for Fridae.com over two years ago. It is a testament both to the demand he is in to appear on the Hong Kong stage (which keeps him mind-bogglingly busy) and to his modesty that he has evaded me so far. At last, in return for something like a quid pro quo (he inveigled me into doing a short English voice-over for his next show, Mr. Diva's Masterclass, I managed to pin him down at his recording studio with his friend and the musical director of the show, Frankie Ho, for long enough to be able to write this piece.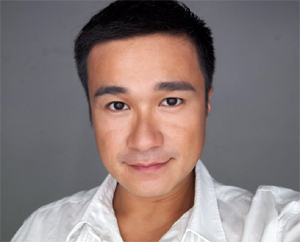 Photo: Facebook. Pichead Amornsomboom was born in
Bangkok to Chinese and Thai parents and moved to Hong Kong
at the age of seven and has been in Hong Kong ever since.
Pichead is more than something of a phenomenon, a figure well-known and admired in the world of music and drama, with a public not in the slightest restricted to the LGBT scene, a poly-dramatist who has managed that rare feat in Hong Kong of actually earning a living out of his art. I made him talk to me about himself (he doesn't take easily to self-advertisement, so this needed perseverance) and his unique background and career. He was born in Bangkok to Chinese and Thai parents who brought him here at the age of seven and has been in Hong Kong ever since. Educated here, he is fluent in Cantonese and literate in Chinese, so he writes and performs as if he were a local. He started out on the stage in school, winning singing contests, then, indulged by a mother who's always supported his choice of career (itself highly unusual in materialist Hong Kong) he took singing lessons for two years. So it took him some time to realise he wanted to be an actor, though in truth he has so many performing talents (acting, singing, presenting, producing, directing, writing) that it is just not possible to sum him up in one word.
The road to showbiz success was a long one and took a deal of hard work. Pichead first joined ATV as singer, actor and presenter in 1991 then two years later moved to Cable TV as a presenter and programme officer for the Youth Music Channel. He also worked as a dubbing artist between 1993 and 1996. Once more financially supported by his mother, he enrolled at Hong Kong's Academy for Performing Arts and graduated in 1998 as a Bachelor of Fine Arts. This led to work in the Chung Ying Company as a full-time actor, a period he ended in 2003 when he travelled to Paris to study acting under the famous teacher Philippe Gaulier. Back in Hong Kong in 2005, he and actor/movement artist Tony Wong founded the theatre group 2 On Stage, for which the pair co-authored and produced a series of shows in which they starred, including their debut, Two of Us, supporting himself all this time by teaching (including for the APA) and taking freelance roles.
Altogether, Pichead has appeared in over seventy theatre shows and has accumulated an impressively expanding number of awards. His performances in Aladdin, Sylvia and A Funny Thing Happened on the Way to the Forum won him Best Supporting Actor Awards (Comedy/Farce) and his performance in Two of Us won him Best Actor (Comedy/Farce) as well as Best Director (Comedy/Farce) at the Hong Kong Drama Awards. The third production of 2 On Stage's camp extravaganza Homo Superus won him the Best Image and Make up Award and also a Top 10 Popular Show Award. Most recently, his performance in the lead for Hong Kong's hit production of Scrooge: The Musical won him the Best Actor Awards (Drama). A record hard to beat in Hong Kong today.
It was during the Awards ceremony in March 2010 that Pichead had his Leslie Cheung moment and came out to the public by thanking both his mother and his partner, Darren, for the love and support that had enabled him to achieve so much. This, I think, is probably the first time this has happened in Hong Kong since Leslie Cheung Kwok-wing did the same at his Crossover concert in 1996 (if you know of anyone else who has had the balls to do this on the Hong Kong stage, please let me know!). Pichead and Darren met in Hong Kong (at Propaganda) just over six years ago, and since then Darren has become part of Pichead's family, playing mahjong with his mother and accompanying her on shopping sprees. So coming out to his family was not much of an issue for him.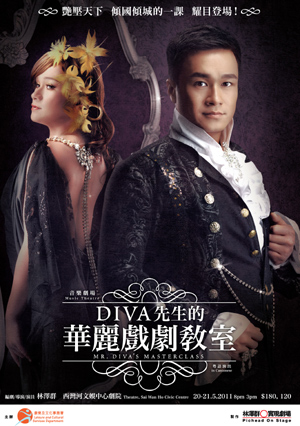 Coming out to his public was a more serious matter, and took a while. The performances of 2 on Stage gradually made it possible for those who looked closely to join up the dots. The poster for Two Come to Pass had Tony Wong tied sultrily to a post, St Sebastian-style, impregnated with arrows. Homo Superus was probably the most flamboyantly gay musical production of any sort that has ever appeared on the Hong Kong stage (re run, please!). In 2009, he gave a short series of cabaret shows at the Fringe Club, supported by friends like Chet Lam, where the gay word was occasionally in evidence. But this is, after all, Hong Kong, where the practical power of economics is always at root the most powerful factor, so it was not till the latest awards, by which time he was at last secure enough to feel free of the fear of losing his employment, that Pichead could honour in public the man he loves.
Pichead told me about his next show, Mr. Diva's Masterclass (I had to get him to do this first, actually, to warm him up to talk about himself). It's on stage from 20 to 22 May at the Sai Wan Ho Civic Centre Theatre, and in it Pichead has indulged himself with the pleasure of singing his favourite diva songs. He'll do this in the character of Mr Diva (Diva Sin San), who will conduct a Master Class with the audience as his students. He'll do this in Cantonese but it won't really matter to the linguistically-challenged as the subject of the class is the music, and this will be a tribute to all the divas whom Pichead loves and who, he thinks, have enriched all of our lives.
The music will be an eclectic programme, a mix of classics (like numbers by Leslie and Anita Mui) with some new songs. Both Chet Lam and Leon Ko have composed music for new numbers in the show, as have two eminent Hong Kong lyricists, Rensen Chan and Chung Chi-wing (writer of 'I Have a Date with Spring' from the Hong Kong musical The Girl from 1941). Pichead's assembled a group of highly talented people to put together the show. Four of his team won awards at the 2011 Hong Kong Drama Awards: Matthew Ma for Best Sound Design; Frankie Ho for Best Original Composition; Kenneth Leung for Best Costume Design; and Billy Tang for Best Lighting.
The ethos of Mr. Diva's Masterclass will not be too far removed from one of the numbers Pichead is determined to sing, the song from The Producers, 'Keep It Gay'. It'll suit his diva personality well, for when he puts on his diva drag something like a totally different butterfly emerges from the chrysalis, dark, 'middle-sexed', more than a tad bitchy but alluring and very, very sexy. Check out the poster for the show to see what I mean. Those of us who had the experience of watching Homo Superus will not have forgotten Pichead's role as Madam Death in a long black evening gown, and there's something of that reprised in this new role.
A thing of dangerous beauty, Diva Sin San, with perhaps more than a little in him of Mr Diva Hong Kong, Pichead Amornsomboom.
Mr. Diva's Masterclass is presented by the Leisure and Cultural Services Department. The shows will be performed in Cantonese at 8pm on May 20 and 21 (Friday and Saturday), and 3pm on May 21 and 22 (Saturday and Sunday) at the Theatre, Sai Wan Ho Civic Centre. Tickets priced at HK$120 and HK$180 are now available at URBTIX outlets, on the internet and by credit card telephone booking. Senior citizens aged 60 or above, people with disabilities, full-time students and Comprehensive Social Security Assistance (CSSA) recipients may receive a 50% discount (limited tickets for students and CSSA recipients on a first-come, first-served basis). A maximum discount of 20% is offered for group bookings.
For programme enquiries, please call 2268 7325 or visit lcsd.gov.hk/cp. Ticketing enquiries can be made on 2734 9009 and credit card telephone bookings on 2111 5999. Tickets can also be booked online at urbtix.hk.