The 5th Beijing Queer Film Festival, China's first full-fledged LGBT film festival founded 10 years ago, has concluded but not before demands by officials to shut down the event sparked off yet another round of cat-and-mouse which gay community organisers in China are by now so used to.
Previously held in the Songzhuang artist commune outside of Beijing, the festival was moved into the city by organisers because they wanted to make the event more accessible to people living downtown. Originally unsure if this would open the festival to a greater risk of getting shut down, organisers were given the final push when DOChina, an independent documentary film festival scheduled to take place in Songzhuang in May, was forced to be cancelled.
Organisers eventually decided to host the festival at the Dongjen Book Club, located in the capital's Xicheng District but decided they would not officially announce the venue until the last minute to lower the risk of a premature shutdown. This strategy was similarly adopted by ShanghaiPRIDE in 2010 after the police demanded the cancellation of several events during the inaugural festival a year earlier.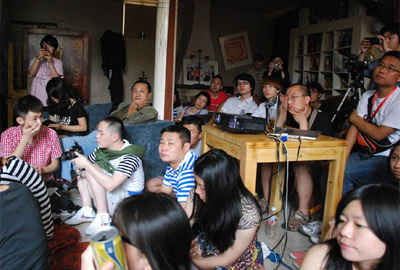 Three days before the start of the festival, however, on June 12, district police as well as officers from the Bureau of Industry and Trade, as well as the Culture Bureau, showed up at the book club, and demanded to meet with the organisers. At this meeting, the police informed organisers that the festival was illegal and had to be cancelled. The book club was also threatened with "harsh consequences" if it decided to go ahead with the hosting of the festival. Organisers, till this day, remain in the dark as to how government authorities found out where they were hosting the event, as the venue was very much a tight secret kept among themselves.
Eventually, organisers decided they would go ahead with the festival, but host each night's screenings at a different location, and close the event only to invited guests. To the general public though, they gave the impression that the festival was indeed cancelled -- people who had booked seats were informed that the event would not be taking place.
Notable Taiwanese gay filmmaker Mickey Chen (陈俊志), on his very first trip to mainland China, told Shanghaiist how organisers were still scrambling to finalise the venue for his screening on the day itself. Other guests invited to the festival from outside of mainland China include queer cinema pioneer Barbara Hammer, Kashish Mumbai International Queer Film Festival organizer Sridhar Rangayan, and Chinese-Canadian video artist Wayne Yung. They presented their films alongside about 15 mainland Chinese filmmakers.
A grand total of 500 people attended the five day festival.
Read the Beijing Queer Film Festival organisers' statement (in English and Chinese) here.
This article was first published by Shanghaiist on Jun 22, 2011 and is republished with permission.