A lesbian couple in Batu Pahat, a small town in the state of Johor, Malaysia made the news when the local media reported that the pair had a traditional Chinese tea ceremony and wedding banquet for 400 guests on Saturday. (The tea ceremony is regarded to be a quintessential Chinese wedding tradition where the new couple serves the beverage to both sets of parents and elders of the family.)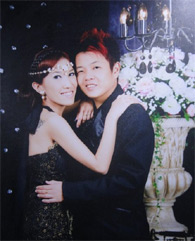 The pair
–
identified in media reports only as Thomas, 29, and Apple, 27
–
has been dating for two years. Photo:
Facebook
The pair – identified in media reports only as Thomas, 29, and Apple, 27 – has been dating for two years. Local Chinese language newspaper Sin Chew Daily reported on the wedding in great detail including the couple's courtship, wedding preparations, the bride's dowry and betrothal gifts, menu at the wedding banguet, and that the bride's mother had initially objected to the relationship but became eventually accepting.
Thomas and Apple have a publicly accessible Facebook page which has attracted over 6,000 "likes" on Monday, up from 630 as mentioned in the first newspaper report that appeared on Saturday.
The marriage is however not legally recognised as Malaysia has no provisions for same-sex marriages.
---
In a column "Blessing instead of approval" in Malaysia's Sin Chew Daily (originally written by Tay Tian Yan in Chinese and translated to English by Soong Phui Jee), Tay related that the newsroom had received many calls from readers who disapproved of the coverage of the same-sex wedding in the paper and were concerned that the wedding would set a precedence.
Tay wrote:
After receiving a large number of calls, a colleague asked me: "Do you agree with such kind of marriage?"
Seemed like not answering the question, I said: "There is no opposition nor approval, but only blessing!"
...
"Mr" Thomas is 29 years old while Ms Apple is 27, instead of views and opinions from unrelated people, they are in a greater need of blessings.
Some readers might ask: "It's better to keep gay or lesbian affairs low profile and why should they hold a wedding?"
Getting married is a kind of courage and why must they keep a low profile?
It is a kind of explanation to let others know about their affair. A wedding represents a commitment and responsibility and it demonstrates that even same sex couples are able to stay together till the end.