Indignation, Singapore's Queer Pride Season, is back for its seventh year in our country. The calendar is up on at http://indignationsg.wordpress.com, featuring sports events, forums, an art exhibition, a literary reading and the annual Pink Picnic at the Botanic Gardens on Aug 9.
As always, there'll also be a mini-film festival, curated by IndigNation organiser Jun Zubillaga-Pow and NTU English professor Brian Keith Bergen-Aurand, author of The Encyclopedia of Queer Cinema. But it isn't your average queer film fest: the theme is "Old Gaze, New Muse", and the focus is on the dawn of GLBT cinema in the early 20th century.
Audiences should prepare themselves for classic black-and-white works like the 1914 gender-switch comedy A Florida Enchantment, and the scandalous 1931 lesbian schoolgirl movie Maidens in Uniform, and the recently rediscovered 1919 German film Different from the Others – banned at the time of its release, with most of its copies destroyed by the Nazis.
"This is a once in a lifetime experience to catch these films on a big screen. It's part of learning what gay and lesbian and transgender people were feeling and experiencing in the first half of the last century," says Jun. "There are many similarities in real life situations that we are experiencing right now today in the 21st century. It seems that time has come to a standstill, that progress is not forthcoming. It's rather melancholy - bring your tissues and someone's shoulder to lean on."
If you're in the mood for something more contemporary, however, you'll want to check out the short films of Lincoln Chia, an emerging Singaporean director and screenwriter with Oak3 Films. "Ever year we try to feature one or more local filmmakers," Jun explains. "For the past two years we had Boo Junfeng and Loo Zihan, and this year we decided to film Lincoln Chia's short films because he's often had an eye for social issues and he has a more experimental edge in his filmmaking techniques."
Some of us in Singapore have already caught Lincoln's 牡丹 (Mu Dan) at last year's Short Circuit screening of queer films. This, together with his older work, Echo, will be featured at the Indignation Film Festival.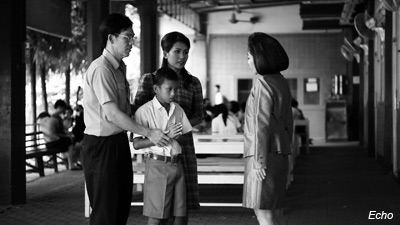 You'll also be in luck if you happen to be in Hong Kong this month. He's also showing his work at the 7th InDPanda International Short Film Festival, which focuses on independent short films from across the world. This is where he's premiering his explicitly queer-themed piece 姐妹 (Sisters), which was co-funded by Fridae after a grant application to Singapore's Media Development Authority was turned down.
As for Lincoln himself, he's shyly declined to provide us with a photo of himself for publicity, but he's been more than willing to share a few words:
æ: Age, sex, occupation, location?
Lincoln: 29, Male, Writer/ Director, Singapore.
æ: You've just finished Sisters. Could you tell us about this film?
Lincoln: It is customary that during a traditional Chinese wedding, the bride usually gets a group of close female friends to be her bridesmaids to tease the groom. In this short film, the role of bridesmaid is portrayed in multiple ways, such as the sisterly love between mother and daughter, brother and sister, nephew and aunt, niece and aunt, etc.
On the wedding day, Sam, the homosexual brother of the bride, is roped in by his cheeky auntie to become one of the bridesmaid, which forces Sam to confront his feelings for the groom.
æ: What was the inspiration for the movie?
Lincoln: It was partly inspired by an incident that took place at my cousin's wedding. The Justice of Peace who conducted the solemnisation said "marriage according to Singapore law is between a man and a woman. Er… are you a woman? Confirm ah… must be real woman and man you know. Cannot be man and man or woman and woman... you confirm a man?"
Honestly speaking, I had mixed feelings when I heard the crowd bursting into laughter. I then felt a little uneasy and offended. It was this experience that got me interested in directing a short film about a homosexual person's involvement in a heterosexual marriage.
æ: Were you able to get government funding for this film? Why not? Where did you get the funding from in the end?
Lincoln: No, we didn't manage to get any government funding for this short film. Fortunately, I still managed to garner the support of many industry players who ensured that my "wedding" proceeded smoothly. Filmmaking to me is about problem solving and I always enjoy the process a lot.
My producer and I worked very hard to have our art department fully sponsored and I was overwhelmed by the support I got from the loan of jewellery and wedding bands, car and car decor and hand bouquet, cosmetics, and wardrobe including the bridal gown and suit. However, cash sponsors remained the biggest obstacle to making the film possible. The primary contributors who funded close to half of the production was the NTU- Alumni Office. Other cash sponsors were Fridae and Mr Kelvin Ang, a personal friend.
æ: Where will Sisters be showing? How did it get picked up?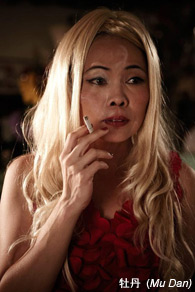 Lincoln: Sisters will premiere at the 7th InDPanda International Short Film Festival in Hong Kong on 14 and 20 August 2011 under Programme M - Gay Shorts 3.
[My other short film] Echo will be screened on 19 Aug 2011 under Programme J - World Shorts 2. Mu Dan was screened in their festival last year and I am honoured and happy to be part of their festival again this year.
I got to know Jonathan and Henry, the festival directors during the 21st Singapore International Film Festival when my debut short documentary, Love Me, Love My Dog was nominated in the Singapore Short Film Competition.
æ: Could you tell us about Mu Dan and Echo? What are they about? What were your inspirations?
Echo was penned as a competition piece for FilmExpoAsia 2010 which was held in Bangkok and it tells a story about a family coping with their son's sudden loss of vision. I was inspired when Rachel Lim, the music director of the short film shared with me a personal experience about her injured pinky that spurred her on to focus even harder on playing the piano. Drawing inspiration from the slight discomfort that she had experienced, I then crafted the story around a blind boy who wishes to become a pianist regardless of his difficulties.Lincoln: Mu Dan was my thesis film and is crafted around three characters, a divorced Christian mother, her son and his newfound girlfriend who is an aspiring lingerie model. The story was inspired by Patsy Cline's Three Cigarettes in an Ashtray.
æ: Thanks! Do you have any other plans for the future?
Lincoln: Get married!
Ng Yi-Sheng is a poet and playwright, and winner of the Singapore Literature Prize in 2008 for his poetry anthology Last Boy.
As part of the IndigNation Film Festival, Echo and 牡丹 (Mu Dan) will be screened at the Arts House, Singapore, on Wed 10 August at 7pm and Fri 12 August at 9pm. Tickets are available from http://www.bytes.sg. For more on the Festival, go to indignationsg.wordpress.com/indignation-film-festival.
As part of the InDPanda International Short Film Festival, 姐妹 (Sisters) and Echo will be screened at the Broadway Cinematheque, Hong Kong. 姐妹 (Sisters) is featured in Gay Shorts 3 on Sun 14 August and Sat 20 August at 7:45pm. Echo is featured as part of World Shorts 2 on 19 August at 9:45pm. For more information, go to indpanda.com.