Leow Yangfa recalls that he was plagued with "guilt, questions, and a deep sense of helplessness" when his friend killed himself just a few days before his birthday. Leow, who himself struggled with suicidal thoughts as a teen and currently works for a social service organisation in Singapore, speaks to Fridae about what motivated his I Will Survive web project which he hopes to compile and publish as an e-book later this year. His proceeds from sales of the e-book will go towards supporting Oogachaga's community services. Oogachaga is a counselling and personal development organisation for lesbian, gay, bisexual, transgender and questioning individuals.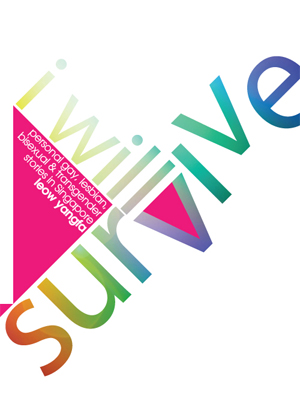 æ: Age, sex, occupation, location?
36, not enough, trainer in a non-profit organisation, Braddell-Tanjong Pagar-Punggol (not a new GRC, but areas I frequent)
æ: Tell us more about the I Will Survive website and how has the response been since its "soft launch" on 1 October 2011.
In the lead-up to the internationally commemorated National Coming Out Day on 11 October, excerpts of the survivor stories that have already been collected will gradually be posted on the website. So far, there have been more than 2,000 hits on the website, and close to 200 people have joined the Facebook group. At least one person has emailed me after reading the stories on the website, offering to share a personal survivor story too. Please keep them coming! All my friends are bugging me to have a proper book launch when the e-book is published later this year. But I haven't a clue how one "launches" an e-book. Ideas (and sponsors) are most welcome!
æ: What inspired this project and what do you hope for it to do?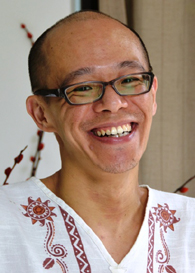 Leow Yangfa has been a long time volunteer in Singapore at the HIV Patient Care Centre (Jun 2000 to Feb 2002) and Action for AIDS, Singapore (Apr 2001 to July 2006); and overseas including OXFAM UK & Ireland (Oct 1996 to Jul 1999) and CRISIS - The UK National Charity for Single Homeless People (Dec 1998 to Jul 1999, Dec 2002).
While on holiday in March 2009, Bryan Choong, a good friend of mine and Centre Manager of Oogachaga, sent me a text message to inform that a mutual friend of ours, CK, had killed himself, just a few days before his birthday.
The first time I met CK was a few months before that, at a Christmas party. I was struck by how friendly and outgoing he was, but I obviously didn't know about the troubles he was facing. A few days before his death, we had even exchanged messages, and I did think something was odd about what he was saying, but I thought nothing much of it then.
I couldn't sleep the night after receiving news of his death, as I was plagued with guilt, questions, and a deep sense of helplessness. I had suicidal thoughts as a teenager when I was struggling with my own sexuality. With my professional background as a social worker, I eventually decided to turn this tragedy into something that could help others.
By the time I was on my flight home, I had already come up with this idea of seeking out gay, lesbian, bisexual and transgender people in Singapore who, on top of having to cope with their sexual orientation, gender identity and coming out, also had to deal with other real-life issues. I wanted to collect their personal stories of struggle, and hear how they survived, and maybe even thrived, in spite of it all. I wanted these stories to be told, and through me, shared with a wider audience. As I went around looking for stories, I found human resilience and hope, and I realised that by putting all these stories together, they would also inspire and help others.
For non-gay readers, perhaps my intention is to raise their awareness of GLBT issues, and develop a sense of shared empathy for their fellow human beings. For gay, lesbian, bisexual and transgender readers, perhaps reading and knowing that someone else has gone through what they might still be facing would help them feel less alone.
æ: What are the more poignant stories so far?
All the stories were bittersweet in their own way. They all affected me in one way or another, some more than others.
Two stories I could personally identify with:
This American survivor, Bradley ("Mother"), whom I got to meet through mutual friends. He shared the story of his turbulent relationship with his mother, whom he came out to under distressing circumstances. I could certainly relate to that, as I was outed by my own parents before I was ready, at the age of 18. My own mother went through a difficult time after that, and as I found out later, even sought help from a counsellor. We sometimes forget that the people we come out to, those closest and dearest to us, also need time and support to come to terms with it. He is now a good friend whom I still see every now and then.
When I first met Wendi ("Big sister"), I was struck by how mature she seemed despite her age (she was 21 and still at university). In addition to having to deal with her sexuality and other growing-up issues, she's also had to look after other members of her family, including her abused mother and a younger brother. I decided to name her story as a tribute to all older sisters, including my own.
Three of the hardest stories for me:
Tarry ("I remember him"), who is about my age, and survived the suicide of his boyfriend. I remember how, during our interview, he showed me the photo he took of his deceased boyfriend's tombstone. I was moved by his quiet sense of strength, wanting his story to be told anonymously, and how, even with the passage of time, he still remembered his first love.
Lester ("My hopes and dreams"), who was only 21 years old at the time of our interview, and living with HIV. Poignantly, I interviewed him on 17 May 2009, a day which happened to mark the International AIDS Candlelight Memorial.
Wee Lee ("Let go of your fears"), who survived four years of appalling physical abuse from his ex-boyfriend. When I arranged to meet him for an interview, I was half-expecting a shy, depressed victim. He couldn't have been further from that stereotype, and he turned out to be the embodiment of a survivor who had moved on from his painful past. We still stay in touch and meet up every now and then.
æ: In the press release you said that you had struggled with suicidal thoughts as a teen. Can you tell us about that and what made it better for you? Were you able to go to any friends or relative to talk about your problems?
Even though I've talked about it publicly in my interview for Ng Yi-Sheng's book SQ21: Singapore Queers in the 21st century, it's still hard for me each time I bring it up or when I'm asked about it. I was in my late teens, and at that time, I was probably going through a period of mild but acute depression. I had regular thoughts of wanting to end my miserable life. It never went beyond having just thoughts, and I certainly told no one about it. Looking back, I wished I had someone close I could talk to, as I didn't feel as if my friends, teachers or family members could understand me, even though I'm sure they were concerned in their own way.
Strangely, what helped me was being able to confide in my long-distance penpals through handwritten correspondence (this was before the age of emails!) I still remember eagerly waiting for the postal worker to deliver the letters every afternoon. Perhaps that was what kept me going! The other thing that probably saved my life (and prevented any suicide attempts) was the fact that I lived in a two-storey terrace house at the time, and did not have access to any lethal means of suicide.
æ: Do you have any insights about LGBT-related teen suicides in Singapore?
From international research, we know that LGBT youth are at higher risk of self-harm and suicide as compared to their non-LGBT peers. Although we don't have similar data in Singapore, I won't be surprised if it's the case here too. It's hard enough to talk about death in our culture; when it comes to suicide, it's even harder, due to the attached stigma and taboo. Having said that, there are organisations out there, such as the suicide prevention agency Samaritans of Singapore (SOS) and the LGBT counselling service Oogachaga, who do their best in their outreach efforts.
æ: What other issues do LGBT and questioning teens and young adults encounter?
Apart from suicide, through listening to the survivors share their stories, I also uncovered numerous other issues that LGBT folk had to deal with. I found that every story surfaced the indomitable human spirit of resilience in its various facets.
• Bullying in school and National Service. This is especially real for two of the young gay men I interviewed. Kenny ("I never gave up") talked about how, when he came out as a bisexual teen in school, he was bullied by his classmates. Ironically, it was his teachers and even school principal who stood up for him. For Zakaria ("So afraid for my life"), because of his slightly effeminate mannerisms, he was mocked and even physically assaulted by his platoon mates during BMT, and subsequently even had to endure verbal taunting from his officers.
• Living with illness. Two survivors talked about living with mental illness, in both cases, depression. I thought one of them, Lance ("Double closet") put it very nicely in his own words, describing his experience as a "double closet", in that he had to deal with the first closet – depression – before he could come out of the second one – as a gay man. Lester ("My hopes & dreams") talks about being a young person living with HIV, while Ethan ("I am not alone") talks about something that is very poorly understood, even within the mainstream community, and probably hidden but definitely unspoken within the gay male community: sex addiction. Yet they all continue to have the courage to carry on living.
• Women's experiences. Through their stories, I realised that lesbians and bisexual women experience the world very differently from gay men, facing different issues and coping with them differently. Most of the women who shared their stories talked about how they felt pressured, by family and society, to be in relationships with men, even when they knew it wasn't what they wanted or felt comfortable with. They gradually went on to find fulfilment in their same-sex relationships, and in one survivor's words, it felt "so natural" being with another woman, instead of being in a socially-accepted but unhappy relationship with a man.
• Transgender stories. Sexual orientation is often confused with gender identity. Needless to say, there's still a lot of mystery surrounding this "under-represented" segment of the LGBT "umbrella" community. I was fortunate to have stories shared with me by an older transgender woman (Stefanie, "A different age"), ethnic minority transgender men (Kris and Dreghren), and a young post-op trans-man (Pat, "Just made this way"). Listening to their stories really opened up my eyes to the challenges they faced, including issues of gender, race and age, and yet how they still coped with dignity.
• Relationships. Almost all survivors talked about their different relationships, and their losses: family members, partners, even opposite-sex spouses. Two of the men who shared their stories had been married to women, and had children of their own. One now identifies as a gay man (Thomas, "Being human"), the other as a transgender woman (Stefanie, "A different age"). Quite a few talked about their experiences with helping professionals, such as counsellors, teachers, police officers, doctors; and what they found helpful and hurtful.
• Religion. Many people turn to religion for support and answers, but it can also be a powerful force of judgement and condemnation. But some continue to maintain personal relationships with their faith and God, finding that it can still offer some form of comfort in the reconciliation between their sexual orientation and religion. Luke ("Outgrown the pain") shares his Christian experiences, and Mohd Ashraff ("Here I am") from a Muslim perspective.
All the stories are organised according to themes, which I saw as the different forms of internal resilience that the survivors tapped on:
• Experiences
• Love
• Grace
• Dignity
• Courage
• Faith
Other sections in the website & e-book
• Four commentaries, from Rev Yap Kim Hao, Leona Lo, Braema Mathi & Siew Kum Hong, who were individually invited to contribute their personal reflections on their experiences with the GLBT communities in Singapore. Only excerpts posted on the website, full versions will be available in the e-book
• Use of appropriate language & glossary of terms (a fuller version will be available in the e-book)
• List of useful resources (thanks to Oogachaga's publication "What's out there")
The e-book, to be published by Monsoon Books, will be available for downloaded from the website before the New Year. The editor's proceeds from sales of the e-book will go towards supporting Oogachaga's community services. Monsoon Books is a Singapore-based independent publisher of English-language fiction and nonfiction titles, usually with Asian themes.