Chinese Walls
By David Clive Price
Published by The Olive Press, 2010
Paperback: 338 pages
Investopedia defines a Chinese wall as: "The ethical barrier between different divisions of a financial (or other) institution to avoid conflict of interest." The last financial catastrophe revealed that, at least in some financial institutions, the concept is honoured in the breach rather than the observance, but it is generally accepted, it seems, that in many walks of business life, financial, legal, accounting, Chinese walls are in concept a good thing. But are they so in personal matters? In the life, for instance, of a gay man clawing his way up the ladder of a conservative financial institution who has to hide his sexual orientation and the existence of his partner from his firm, to deceive that firm, in effect, in order to serve it? This is the question that David Price faces full on in his new novel Chinese Walls, published by The Olive Press in 2010 and made available by Lulu online this year.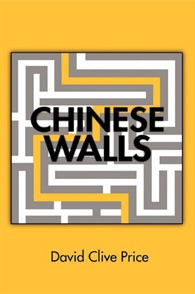 Buy
Chinese Walls
on Amazon
Those of us who work in, or live surrounded by, the financial powerhouses of Hong Kong, Singapore and London, or who are friends, perhaps, with many of their denizens, know, of course, that this is no irrelevant question to be answered with idle, entertaining theorising. It is, on the contrary, a problem that lurks deep within the heart of most of the major international companies doing business in the East, not to even contemplate its local firms. Tolerant, easy going, laisser faire when times are good, these companies lull their staff into acquiescence of, and compensate so well for the disadvantages of, the giant closet that they operate that no one rocks the wardrobe and hardly anyone even notices that it exists. For in these firms every bit of dirt under the carpet stays there, and most of the big commercial houses regard a different sexual orientation or a diverse gender identity as exactly that, dirt to be hidden.
Which sorry state of affairs finds Nicholas Powell, thrusting young Group Public Affairs executive in the London and Hong Kong-based United International Bank completely without recourse when his career is attacked by his enemies in the firm. Nicholas makes the treble mistake of falling in love with someone who is a junior member of the bank, who is Chinese, and who is, above all, a man. Attempting to make a life for himself and his lover Daniel, Nicholas builds Chinese walls around his private world and believes that they will be enough to allow him to survive in the at best amoral, at worst decidedly immoral, corporate world he has chosen. His, though, are Chinese walls that his superiors might respect while it suits them, but are more than likely to tear down when it doesn't. David Price's novel lays bare the effects of living in the corporate closet and in doing so he himself breaks down a barrier, that of the current corporate denial of the way things really are.
Chinese Walls is more than a modern (well, not quite modern; it is set in the late Nineties) morality tale, though. Set in the financially, and still culturally, linked cities of London and Hong Kong, his pages are redolent of the atmosphere of both. He is particularly good at rendering the sights, sounds and smells of Hong Kong, a place immediately recognisable to those of us fortunate enough to live there:
The Star Ferry thumped against the quayside and rocked there, the motors propelling the boat sideways. The old matelot in his blue and white baggy uniform threw the ropes towards the quay and the gangplank was lowered. At a signal from the upper deck, the metal bar was raised and the passengers began to jostle along the walkway to the bus station, finally disgorging into the square in front of the Star Ferry Terminal. The air was thick from exhausts from the cream double-decker buses...
Doubtless a trip that Price has taken many times himself, for he is an old Hong Kong hand, and one who knows the diverse byways of the place so vividly described here. Chinese Walls is his second novel, the first being Alphabet City, also published by The Olive Press back in 1983, and that, too, a story with a gay theme, of a runaway from English respectability who lands in the seedier parts of New York, and from thence commences a drug and sex-filled On the Road – type journey through America. But Price is a professional writer and has many more works than this under his belt, mostly books of travel writing, on India, Japan, Italy, Korea and Mainland China, even of Hong Kong. He is an accomplished writer who brings gifts of description to an ability to render lifelike dialogue and, at times in this novel, a plot that raises the temperature and the speed of reading. There is a mystery of betrayal at the heart of this book, and as Nicholas Powell edges closer to solving it, tensions rise, the pace quickens and the desire for the disclosures of the denouement becomes intense. I devoured the last few pages at lightening speed.
Sex rears its rather attractive head here occasionally too, as one would hope in a gay-themed novel. Sex that crosses an inter-racial boundary, and so another interpretation of a phenomenon of endless interest to the rice and potato queens of the cities of the East. The difficulty of not only living a gay life but one that has to meld both East and West, and the families at both ends of that see-saw, comes under the spotlight here. It is rather good that it is Daniel's family that comes off best:
Daniel told him that Ma had said how lucky Daniel was to have a gwailo friend, especially a friend in the same company. With eight children already married to Chinese, she seemed completely unperturbed by the idea of a ninth being involved with a 'devil-man'. She prayed for him regularly at Wong Tai Sin temple […] Ma was a typical Chinese mother. She cooked and washed up not only for Daniel and him, but also for Daniel's nephew who she had adopted until the end of primary school, and for Daniel's unmarried sister.
Nicholas's mother, alas, is a sad, bitchy English middle class woman who does nothing for herself, though she finds fate softening her views towards the end.
It is clever to couple a serious attack on Hong Kong's banking conglomerates and social mores with an exciting whodunit, and Price pulls it off. If you read his book, you will enjoy being appalled, titillated and at times excited, but don't expect that you will be reading just a work of fiction.

Buy Chinese Walls
on Amazon