Halted for a year to draw breath and prepare for 2012, Hong Kong's Pride Parade was back at last this year. The 3rd Hong Kong Pride Parade hit Causeway Bay on the afternoon of Sunday, 12 November. More than 2,000 gays, lesbians, bisexuals, transgenders and even a good few straights came from all over the world to join what's probably the most public showing of Hong Kong's LGBT community.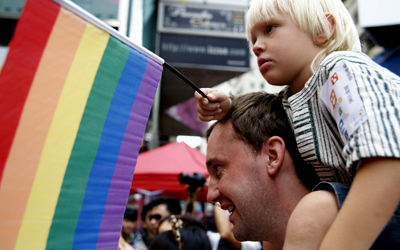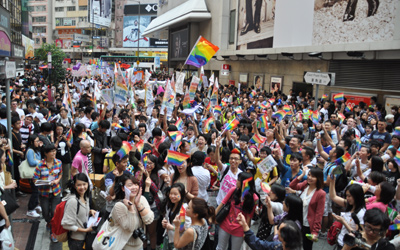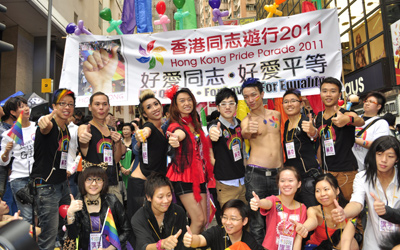 Organisers and volunteers of the parade.
Back row, second from left: Hong Kong Pride Parade spokesperson and
prominent local activist Connie Chan.
Participants in this year's event were from all walks of life, from bankers to busboys, atheists to Christians, Europeans to Asians, singles to couples, families to friends. An English family from the Hong Kong LGBT Interbank Forum even brought their 7-year-old son along to educate him on the importance of acceptance and how to be open-minded towards different minorities. There were students with rainbows painted on their faces from the Li Po Chun United World College and groups from the Guangzhou area, including Associate Gay, Les Campus and Shenzhen 258 Rainbow Work Group.
As the rally kicked off, Pastor Wong from the Blessed Minority Christian Fellowship (BMCF), the only LGBT church in Hong Kong, told the crowd he was there to support the fight for gay rights. Hong Kong gays, he said, had long been deprived of their needs, for example the right to same-sex marriage, which, he pointed out, had still not been brought up officially in Hong Kong. There was no law to protect gay couples from discrimination. It was time, he said, for our voices to be heard.
"Everyone can be an element of change!" was the slogan carried by the volunteers of Elements, an LGBT-orientated volunteer group. They urged the freedom to love, dismayed that same-sex love was still not accepted in Hong Kong. "Love fearlessly and seek a quality gay life" was their battle cry.
Out on the march were many pride virgins. I met Horace, a 19-year-old clerk: "I'm glad people are getting together. I remember being a victim of school bullying, I never would have thought that today we could all stand together and be proud of ourselves."
A new body out on the street was the recently founded Lingnan University group, Lingnanians Support LGBT. JC, a 22-year-old member, told me that they had been brought together by studying sexual orientation in their cultural studies class. The pride parade was their very first gathering.
I spoke to Connie Chan, the Hong Kong Pride Parade spokesperson, who said that whilst the LGBT community had put its weight behind the parade, the Hong Kong Government could have done more to support it. They had applied, she said, a year in advance for a bigger venue, Victoria Park, but their application had been turned down. A government representative had told them that the park should be used as recreational purpose like sports rather than this sort of gathering. But it turned out there were two other events taking place in Victoria Park at the same time.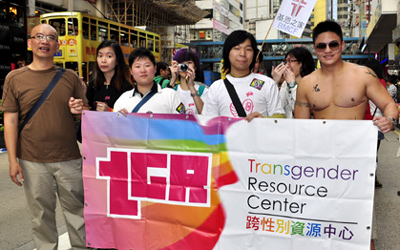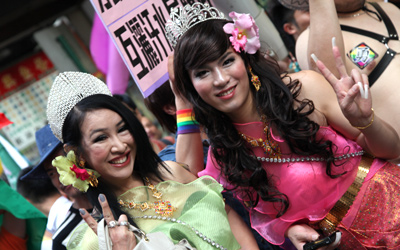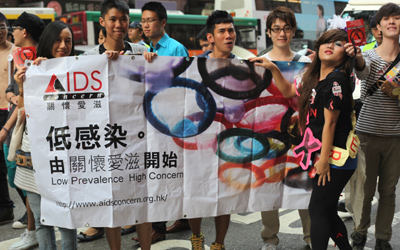 All photos courtesy of Team Hong Kong Pride Organising Committee 2011
As one of the cities in the world with the greatest number of demonstrations, Hong Kong is not unused to street marches, but was it ready for one with the flavour of this parade?
This year's dress code was "Sexy and Act Out". Despite this, we could only spot a handful of drag queens and a few topless "cowboy-bears" wearing leather tights. Even these drew adverse comments from the bystanders. There is clearly still a lot of room for improvement in the crowd's acceptance of what diversity actually looks like in the flesh.
Yet less than one out of twenty marchers responded to the call to dress up; the rest looked rather modest, and I could see that Hong Kong gays were still mostly reserved about revealing themselves in public. Quite a few people spent their time wandering in and out of the crowd claiming that they were afraid of the possibility of being caught on camera.
"Hong Kong people are not familiar with this kind of scene. We can't blame them for it as there hasn't been anything like this in Hong Kong before. All they need is some time," said Connie Chan.
Feeling a little bit ashamed of the outcome, the parade's officials promised they would put more emphasis on promoting the theme and dress code in coming years.
The Taiwan Pride had just happened two weeks prior to the Hong Kong Pride, and an estimated 50,000 people showed up. The ones I met expressed the view that Hong Kong's parade was boring. Some complained that there weren't any hot shirtless men walking among them and that there was no good music being played during the parade. The accent of a pride parade that they had come to expect was somehow missing.
I asked Connie why the Hong Kong Pride seemed more like an activism event than a party, and suggested that the majority of the crowd was just marching instead of having fun like they would in any other pride parades in the world. Connie responded: "We can't compare our parade with the others, as ours is still young. The pride events in the US have a lot of history and development. Even this year is already Taiwan Pride's 9th year. We just need more time to grow."
Parade officials pointed to the fact that this year had more local participants, and that it was therefore a milestone for the Hong Kong gay community. More and more people, they thought, were willing to step out for themselves. There had been a great advance since the first year, when people were spotted wearing masks and sunglasses to avoid revealing their identities.
On the other hand, as Hong Kong is a part of China, where pride parades were so far not permitted, the officials were disappointed that the number of mainlanders had dropped significantly this year. They believed that the mainland Chinese wanted a parade of their own very badly and had thought more of them would come given Hong Kong's close proximity.
Hong Kong Pride is still suffering financial difficulties this year, though it didn't seem to have affected the pride spirit on show on the day. According to the parade's officials, work has already started to organise the next year's event. Their initial ideas include an emphasis that LGBT people come from all walks of life, so we might see quite a lot uniforms on the streets next year.