It wouldn't go unnoticed, though whether the (Singapore) Straits Times editors fully realised the significance of what they were doing is an open question. Channel NewsAsia's report, by contrast, didn't have a photo showing David Furnish though he was mentioned in the text. It's entirely in keeping with the general observation that Channel NewsAsia is more politically timid. Facebook had several postings by gay men pointing out the printed photograph of singer Elton John with his husband David Furnish and baby Zachary, among which was this posting by Alan Seah: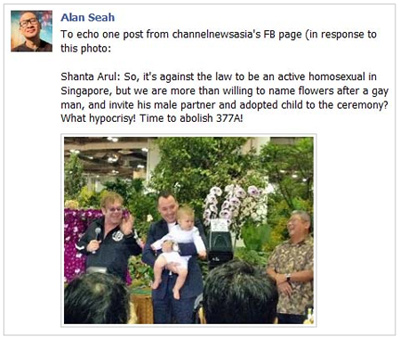 In brief, what the hubbub was about was this: At the 20th World Orchid Conference organised by the National Parks Board and the Orchid Society of South East Asia, Elton John got a hybrid created at the Singapore Botanic Gardens named after him. He joins a long line of visiting state dignitaries and celebrities, but he's perhaps the first openly gay person to be given the honour. The Straits Times mentioned that Ricky Martin also had an orchid named after him some years back but it is not clear if that was before or after he came out as gay.
Apparently, Marina Bay Sands had initiated the idea of naming an orchid after Elton John, probably because they are hosting John's concert, but whether this is a correct sequence of events is not clear to me.
Adding to the significance, John, whom we can expect to be aware of the situation in Singapore with respect to gay rights, very shrewdly invited his partner David Furnish and his son Zachary on stage to share in the honour. This was in front of all the media, cameras, video, etc. Furnish and Zachary had been placed right at the back initially and had not been invited to take part.
"It might very well be the first time a same sex family unit has been on stage in an official function in Singapore ever!" said an eye-witness to the occasion.
The picture above might have been the stage moment, but the Straits Times chose another photo, this time of the family arriving, that was just as … erm … obvious.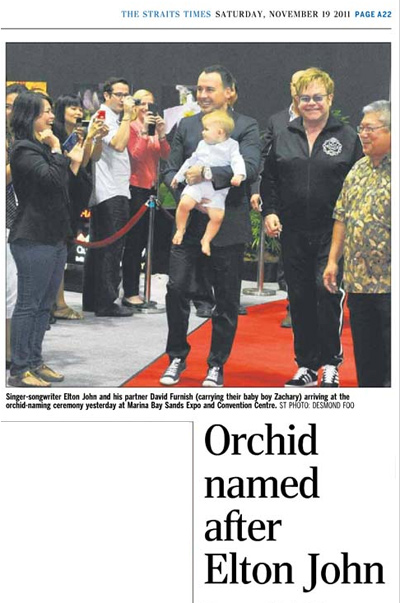 One thing we should not do is to read in the editors' decision any grand scheme to shift the debate on gay equality. It's not as if it's part of a larger plan preparing the ground for and heralding a forthcoming government decision. Nor is it even a trial balloon to see how Singaporeans react.
On the gay issue, the government has given up governing. They don't know what to do, they are paralysed and they are just hoping the issue will go away. Ask them what their responsibility is towards basic principles of justice and equality, and they will try to look away and pretend not to have heard your question. Thus, to imagine that media editors are the advance guard to test or prepare for future moves by the government is to give the government too much credit.
Editors at the Straits Times are no Neanderthals. They know where the world has gone on the gay issue; and most of them — though there are some remarkably antediluvian exceptions — know that Singapore is embarrassingly behind the curve. They also have a sense that saying it like it is and publishing the photo is going to get little more than a shrug among their readers. Thus, all we can read from this media decision is that, yes, the Straits Times too has come to believe that it's largely a non-issue. Singaporeans, by and large, are not going to reel in shock that there is homosexuality in the world, there is same-sex marriage and that there are gay-coupled families. Now with children.
Of course, that recognition itself is an significant milestone, so it's not as if this news story has no importance.
* * * * *
Meanwhile, in the UK, Prime Minister David Cameron is accelerating the process towards gay marriage from the current law that only permits civil unions between same-sex couples. Next March, a public consultation will begin on allowing same-sex couples to call themselves married and Cameron has said he hopes the historic change will become law before the election planned for 2015.
In the US, California's Proposition 8 case is slowly winding its way through the courts. The day before Elton John got his orchid, the Calfiornia Supreme Court ruled that proponents of Proposition 8 (which amended the California constitution to ban same-sex marriage) should have the right to defend the measure in court. This decision will now revive the federal case currently resting at the Ninth Circuit Court of Appeals, but is not decisive. It's all very technical at this moment with no clear outcome in sight.
In contrast to the relatively principled arguments being considered in the UK and the US, in Australia, Prime Minister Julia Gillard is playing politics with the issue. She has proposed a conscience vote on gay marriage at the upcoming Labour Party national conference, where there is a good chance that a majority of delegates will vote in favour. She herself is likely to vote against, not because she is against gay marriage, but because she does not want to upset conservative voters. Allowing the conscience vote is designed to appease liberal voters, and that way she hopes to have her cake and eat it.
But all this is just at the party level. The issue is still far from reaching the federal parliament.
* * * * *
Malaysia provided the most recent example of bad news. Seksualiti Merdeka, a festival of talks, films and exhibitions modelled on Singapore's LGBT festival Indignation, was banned by the police earlier this month. Even as the ban was being announced by deputy-inspector general of police Khalid Abu Bakar, saying that "the programme could create disharmony, enmity and disturb public order", the matter was debated in parliament with Malaysian legislator Bung Mokhtar saying "Your Honour, I am asking for this activity to be blocked. It involves wild relationships that will damage the country and nation. It is planting the seeds for the emergence of wilder relationships." (Free Malaysia Today, 3 Nov 2011. Link).
Malaysian Deputy Prime Minister Muhyiddin Yassin was reported to have called Seksualiti Merdeka "immoral."
"Any activity that does not benefit the majority of Malaysians should not be carried out. It's a waste of time, although they can say it's their own right and freedom," he said. "That's why to me, it (the festival) is totally unsuitable and I don't know its benefits. I don't understand why they carry out such promotions. Is there any political agenda behind it?" (Channel NewsAsia, 3 Nov 2011, Malaysian police ban gay rights festival. Link)
Elton John's concert in Genting Highlands, Malaysia's gambling resort, scheduled for 22 Nov 2011, was also the target of anti-gay criticism. Calling for a ban, Shahril Azman Abdul Halim Al-Hafiz, an official with the Pan-Malaysian Islamic Party (PAS), said the concert would corrupt young Muslims because of John's homosexuality. "It's not good. In Islam homosexuality is forbidden," he told AFP. "What he is doing is hedonism. Hedonism is not good in Islam."
However, this time there were defenders.
Recording Industry Association Of Malaysia chairman Norman Halim called it a "few narrow-minded people trying to impose their values on everybody."
"You don't go to an Elton John concert and suddenly become gay!" he said adding that such protests should not happen if Malaysia wants to achieve developed country status.
Sisters In Islam communications member Akmal Zulkifli said: "In Islam, we cannot judge someone immediately, we have to go deep into the issue. Elton John will go on stage to play the piano and perform, not kiss another guy."
– The Star, 25 Oct 2011, Pahang PAS' anti-Elton John concert draws flak, Link.
Oh dear, I wonder whether the John-Furnish family plans to go on stage together, while there.
Editor's note: At the concert in Singapore on Nov 20, Sir Elton John told the 7,000 strong crowd to that he had enjoyed his trip to the island state and it should "sort out your gay rights".
Alex Au has been a gay activist and social commentator for over 15 years and is the co-founder of People Like Us, Singapore. Alex is the author of the well-known Yawning Bread website.