Having been given a NC 16 rating by the Media Development Authority (MDA), organisers who had intended to screen the film at the Landing Places exhibition tonight have announced that they won't be screening the film as a S$10,000 deposit is needed to be able to do so.
Under the MDA regulations, a Film Exhibition Licence is required for anyone who wishes to exhibit films classified as NC16 (No Admission for children under 16), M18 and R21. A temporary Film Exhibition Licence requires a security deposit of S$10,000 which will be returned upon licence termination or licence expiry.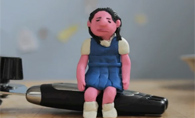 Above: 100 Butches #9 Ruby shows two plasticine characters recalling a teenage crush.
The clay animation titled 100 Butches #9 Ruby by Singapore-born, Montreal-based artist and graphic novelist Elisha Lim features two plasticine characters in school pinafores, with one of them recalling a teenage crush.
Curator of the exhibition Tania De Rozario told Fridae that the film had been rated for "mature content" but the MDA did not provide further details.
She said: "The 52-second animation contains no sex, no violence, no nudity, no foul language, no drug references and no elements of horror. In a New York film festival [MIX NYC: New York Queer Experimental Film/Video Festival], the artist submitted it under the children's category."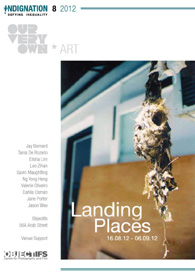 Landing Places runs from Aug 16 to Sep 6 at Objectifs, 56A Arab Street, Singapore.
She added that while applying for the film to be classified, the form contained a section titled "Declaration of Content Concerns" which included the categories: sex, violence, language, nudity, drug use and themes. And under "themes", homosexuality is grouped together with child abuse and terrorism.
When notified of the rating, Lim said: "I had no idea what a dangerous and repressive environment Singapore was. Of course I'm totally dismayed, disappointed, frustrated."
The exhibition license requirement has been waived on the other artworks including drawing, painting, photography, collage, and animation by 10 queer artists on the theme of how their sexualities affect the ways in which one defines, creates, articulates, questions, rejects and/or relates to notions of home.
At the IndigNation Pride Film Festival last year where two feature films [Yossi and Jagger (Israel) and Drifting Flowers (Taiwan)] and five short films were shown, all films were rated R21. The two venues, Sinema and The Arts House are holders of the MDA Film Exhibition Licence, which stipulates a S$20,000 security deposit in addition to a 3-year fee of S$1,500, confirmed Jun Zubillaga-Pow, curator of the film festival last year.
He told Fridae: "These are the rates for a registered private corporation, but for an independent, quasi-SME to supplement a S$10,000 deposit, this would be beyond their everyday business capability. This particular event concerns not with the online accessibility or miniature nature of the artwork, but the state discrimination of the poor and the private. I think the question lies with the rationale for a S$10,000 deposit."
Landing Places is curated by Tania De Rozario and includes work by Jay Bernard (UK), Elisha Lim (Canada), Loo Zihan (Singapore), Ng Yong Heng (Singapore), Valerie Oliveiro (Singapore), Dahlia Osman (Singapore), Jane Porter (Singapore), Gavin Maughfling (UK) and Jason Wee (Singapore). The exhibition runs from Aug 16 to Sep 6 at Objectifs - Centre for Photography and Filmmaking, 56A Arab Street, Singapore.
For more information about Elisha Lim, visit elishalim.com and/or etiquette.sg
IndigNation 2012 will run from Aug 3-26 at various venues. For an event listing, visit indignation.sg. Fridae is proud to be an official sponsor of Indignation since 2005.