Organiser Sunil Pant, director of the Blue Diamond Society and the first openly gay politician in Nepal, say the event is modeled on the global Gay Games which are organised by "lesbian, gay, bisexual, and transgender (LGBT) promoters for athletes from the same community to promote inclusion and encourage the pursuit of personal growth."
Members of the Blue Diamond Society, Nepal's only gay rights group, practice at Dasarath stadium in Katmandu on Sunday, Aug. 26. Photo by AP by
BuzzFeed Sports
.
"30 years later, Blue Diamond Society (BDS), which is the country's largest human rights organisation that works to empower the marginalised LGBT community has taken the initiative to bring a version of these unique games to Nepal," the press release added.
Organisers say the festival has confirmed participation from over 200 Nepali amateur athletes from the LGBTI community and at least 150 foreign athletes from over 17 countries. Participants will compete in more than ten groups and individual events such as karate, track running, 5KM fun marathon, football, volleyball, swimming and long jump. The events will be held at the Dasharath Rangashala stadium and the National Theater Hall in Kathmandu.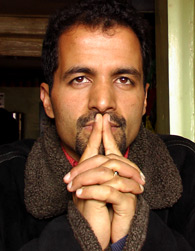 Sunil Pant, director of the Blue Diamond Society and the first openly gay politician in Nepal.
Special guests include openly gay American Olympic medalist Greg Louganis, who had won two gold medals in diving in the 1984 and 1988 Olympics and Peter Tatchell, a prominent human rights activist from the UK. The organisers say they hope for local high level governmental officials and politicians to attend the event as guests.
There are plans to hold a human rights seminar and LGBTI film festival in conjunction with the sporting event, more details will be announced later.
The "Asia-Pacific Outgames", a regional multi-sport event held every three years for LGBT athletes and participants in the Asia-Pacific region, has only been hosted by New Zealand and Australia. A smaller scale sporting event, The Straits Games, has been held annually since 2002 and rotates between Phuket (Thailand), Taipei (Taiwan), Hong Kong, Kuala Lumpur (Malaysia) and Singapore. The next event is slated to take place in Phuket, Thailand from Oct 12 to 14.