This year, screenings will only be held in Jakarta and organisers have decided against releasing the festival programme in advance and will instead only release the screening list on a daily basis. Today, eight films will be screened at four venues and about 120 films will be screened in total.
The Q! Film Festival was the largest LGBT film festival in Southeast Asia last year, where 86 movies from around 25 countries were screened in Jakarta and five other cities across the Indonesian archipelago. Even then, the festival's website was updated less than a week before the opening to "avoid and give less-space to certain radical groups to grab information about the festival," festival co-director Meninaputri Wismurti told Fridae in an interview.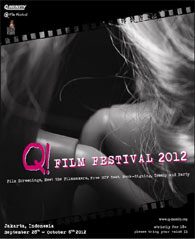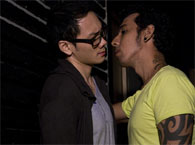 In 2010, the Jakarta Globe reported that some 100 members of the hardline Islamic Defenders Front arrived at three venues to demand that the venues stop hosting the events or risk arson.
In a statement, organisers say they are determined to continue to hold the event despite facing threats from fundamentalists, extremists and religious groups.
"Q! Film Festival is a humble statement for the realisation of equality and diversity in society life. Even though there are pros and contras in it's 11 years journey, making harmony in society a reality and not just a dream is one of the goals of this film festival," said co-festival director Hally Ahmad. "Films are our chosen media to convey a universal love from the film makers to their audience, without being preachy or preached upon."
Paul Augusta, the director of Parts of the Hearts – a film about growing up gay in Indonesia – added: "For 11 years, Q!FF has been a loud voice against LGBT discrimination in Indonesia through education, art and entertainment that opens up the minds of society. And Q!FF always do this with courage against all the threats from parties who has oppresses diversity. Hopefully Q!FF's efforts will carry on and evolve into something better."
Interested attendees can contact the organisers for information with regard to the screening times and venues for the screenings. The venues are Goethe Institut, Erasmus Huis, IFI Salemba, SAE FX (6th floor), Salihara, Kineforum, Apollo Bar and Lounge, and Kontras. To receive updates, follow @QFilmFestival, visit/Like Q! Film Festival Facebook page, join our mailing list and add their blackberry pin: 211EA3F4 or email promotion.qff@gmail.com. For the daily schedule, visit http://www.qfilmfestival.blogspot.com
Free HIV-testing will also be offered at Kontras from Sep 30 to Oct 6 from Noon to 8pm.