"It is now our generation's task to carry on what those pioneers began. For our journey is not complete until our wives, our mothers, and daughters can earn a living equal to their efforts. Our journey is not complete until our gay brothers and sisters are treated like anyone else under the law – for if we are truly created equal, then surely the love we commit to one another must be equal as well," President Barack Obama said in his inauguration speech on Monday. He made history by becoming the first US president to advocate for gay rights in his inauguration speech.
The US media has called the remark a "reflection of shifting attitudes toward the issue of gay marriage" and noted how far the president's own position has moved after saying for years that his views on the subject were "evolving."
In a speech that focused on themes of equality, Obama made special mention of the Stonewall gay-rights riots, equating them with watershed moments in the equal-rights struggles of women and African-Americans. The president also honored a Greenwich Village gay bar, the Stonewall Inn, where violent demonstrations against a police raid in 1969 gave birth to the modern gay civil rights movement.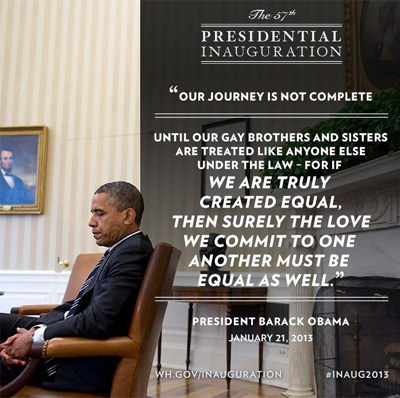 A Facebook share from The White House
"We, the people, declare today that the most evident of truths - that all of us are created equal - is the star that guides us still; just as it guided our forebears through Seneca Falls, and Selma, and Stonewall," he said, refering to the first women's rights convention held in Seneca Falls, New York, in 1848 and the civil rights march in Selma, Alabama, in 1965 where civil-rights supporters were beaten during voting-rights marches.
The president's support for gay rights was noted by political commentators and praised widely by rights activists.
"For a president who only recently, to use his word, evolved on the issue of same-sex marriage, he made very forceful statements in this inaugural address, actually, historic statements on equal rights for gay and lesbian Americans," Politico quoted CNN's Anderson Cooper, who is openly gay, as saying.
The US Supreme Court is scheduled to decide on two same-sex marriage cases. The Court will hear arguments on March 26 and 27 on legal challenges to the federal Defense of Marriage Act and California's Proposition 8.
During the last year, the president has said he personally supports gay marriage but that the issue needs to be decided on a state-by-state basis. Currently, nine states authorise same-sex marriages.
"President Barack Obama made history... by connecting the lives of committed and loving lesbian and gay couples fighting for marriage equality to this nation's proud tradition of equal rights for all," Chad Griffin, president of the Human Rights Campaign, a leading gay rights organisation, said in a statement as reported by the San Francisco Chronicle.
"By lifting up the lives of LGBT families for the very first time in an inaugural address, President Obama sent a clear message to LGBT young people from the Gulf Coast to the Rocky Mountains that this country's leaders will fight for them until equality is the law of the land," Griffin said. He added that the mention of Stonewall was "testament to the valiant contributions of LGBT Americans past and present who seek nothing more than to be treated equally by the country they love."
New York Times columnist Frank Bruni wrote in his article "A map of human dignity" that although the president's speech "spoke volumes about the progress that gay Americans have made over the four years" between his first inauguration and this one, it also "underscored the lingering gap between the American ideal and the American reality."
Referring to the right to marry, Bruni wrote: "As long as we gay and lesbian Americans don't have that, we're being told that our relationships aren't as honorable as those of straight couples. And if that's the case, then we're not as honorable, either. Is there really any other reading of the situation?"
Last May, Obama endorsed granting same-sex couples the right to marry saying: "You know, Malia and Sasha [his daughters], they have friends whose parents are same-sex couples. There have been times where Michelle and I have been sitting around the dinner table and we're talking about their friends and their parents and Malia and Sasha, it wouldn't dawn on them that somehow their friends' parents would be treated differently," Obama said at the time in an interview with ABC News. "It doesn't make sense to them and, frankly, that's the kind of thing that prompts a change in perspective."
Visit NBCNews.com for breaking news, world news, and news about the economy