Since 2008, Golden Village Cinemas has held the annual Love and Pride Film Festival (LPFF) right here in Singapore. This mini film festival has offered up LGBT-themed cinematic gems for the viewing public, such as Brokeback Mountain, Spider Lilies, Love of Siam and The Kids Are All Right.
This year, the festival runs from 29 January to 4 February, with just four films on show. There's Romeos, a German romance between a young gay man and a young transgender man; Toast, a British coming-of-age tale about a boy obsessed with cookery; and Speechless, about a male nurse in China who rescues a mysteriously silent Western patient from a hospital.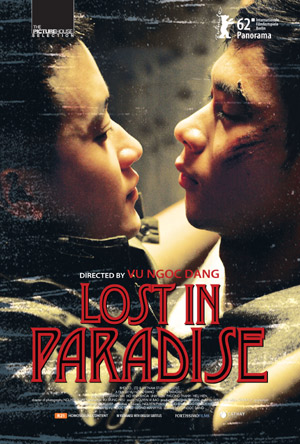 Most intriguing of all might be Lost in Paradise, directed by Vu Ngoc Dang, an award-winning 2011 drama is billed as Vietnam's very first gay film. Some of our readers will recognise it under its original mouthful of a title, Rebellious Hot Boy and the Story of Cười, the Prostitute and the Duck. (In Vietnamese, this is Hot boy nổi loạn và câu chuyện về thằng Cười, cô gái điếm và con vịt.)
Here in Singapore, the movie's scheduled for two screenings: once at the opening on Tuesday, and once again on Saturday afternoon. Of course, there's a chance that further shows might be scheduled beyond the festival, if and only if there's enough interest from the greater public.
Not the first?
But is Lost in Paradise really the "first gay film" to come out of Vietnam? Maybe not. Back in 2004, the very same director released Girls With Long Legs, featuring a sympathetic portrayal of Khoa, a gay man in love with a photographer.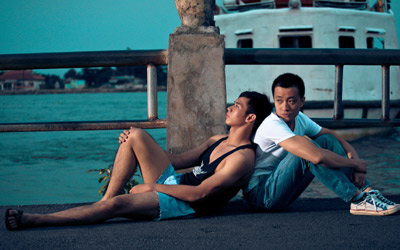 The film didn't have a gay focus, mind you – it concentrated on the glamorous world of female fashion models. It was also notable for being one of the first commercial films to emerge from Vietnam after the movie drought of the 1990s, winning the director a Silver Lotus Award for his efforts.
In the decade since then, director Vu Ngoc Dang has won the hearts of audiences and critics alike with his films and TV serials, including Suddenly Want to Cry (2008-2009), Every Inch of Beauty (2009) and Full House (2009) – the last example being a TV remake of the Korean movie Full House.
Alas, Vietnamese LGBT cinema hasn't prospered in his absence. True, other filmmakers and TV directors were willing to create gay characters, as evidenced in Bar Girls (2003), Street Cinderella (2004) and De Mai Tinh (2010). But such characters were consistently depicted as light-footed drag queens, pure comedic material for a straight audience's entertainment.
Jerry Quan, administrator of LGBT forum The Gioi Thu 3, was one of the many gay men annoyed by this trend. "Gay men can be very manly. Not all of us opt for cakey make-up and flamboyant clothes. The way gay people are portrayed in films has tainted our image," he said in an interview with Tuoi Tre News. "I don't know if it is the director, writer, or actors themselves, but often scenes depicting us are very offensive and grotesque, and give viewers very wrong ideas about us."
Thus, what makes Lost in Paradise special is that it's the first Vietnamese film to truly focus on the gay experience, and to do so with real tenderness and empathy.
Two love stories
Nonetheless, this film isn't an exclusively gay production. It boasts two plots, only one of them gay-related. Both narratives, however, are set in seamy underworld of Saigon, a place where innocents arrive, seeking "paradise", only to lose everything they have.
(Note: I'm saying "Saigon" rather than "Ho Chi Minh City", as this is the name of the city used in the English subtitles.")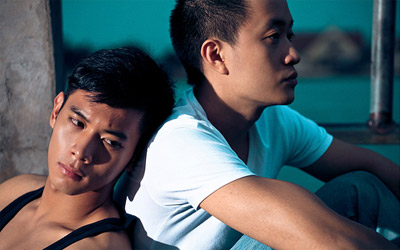 Ho Vinh Khoa (left) plays Khoi who moves to Ho Chi Minh City
after getting thrown out of his parents' house. He later becomes
involved in a relationship with Lam (Luong Manh Hai, right).
The gay plot centers on Khoi (Ho Vinh Khoa), a 20-year-old country bumpkin searching for a life of his own in Ho Chi Minh City after getting thrown out of his parents' house on account of his homosexuality. At first, he's taken in by rent boys Dong (Linh Son) and Lam (Luong Manh Hai). Then the two rob him, leaving him without even the clothes on his back. He's forced to become a day labourer, hauling sacks of sand in the alleyways, until Lam, now abandoned, takes pity on him, and the two become lovers.
This is naturally the eye-candy section of the film, designed to keep gay male audience members salivating (and, I dare say, straight female ones, too). Happily for us, Vu appears to have no qualms about letting his camera lens linger across the gym-fit, frequently undressed bodies of his handsome male leads.
Ho Vinh Khoa is particularly dishy: he combines an angelic face and a ripped body with strong acting skills in the role of a young man who's both vulnerable and strong, both spiritually and physically tortured. Still, it's Luong Manh Hai who has the brains to match his muscles: collaborating with Vu, he served as a joint scriptwriter for the film.
The film's second, parallel plot is just as powerful, if not more so. It involves the mentally disabled trash-collector Cuoi (Hieu Hien), who raises a duckling in the squalor of the city, and the ageing sex worker Hanh (Phuong Thanh), who defends him at great personal cost. Though the characters from the two plotlines never meet, their stories make the same basic point: in the heartless, dog-eat-dog world of urban Asia, the only thing that makes life worth living is love.
(Phuong Thanh, incidentally, is a big star in Vietnam. She's a renowned singer who defies genre in her repertoire, and has frequently spoken out as a straight ally on behalf of LGBT rights.)
It's a fact worthy of celebration that this film has finally reached Singapore, just a year and a half after its September 2011 premiere in Toronto. Still, there are a couple of things that dampen the mood of the festivities.
First, Vu Ngoc Dang can't come – he has a terrible fear of flying. And second, what we'll see here isn't the original film. Singapore's Media Development Authority has made visible cuts to this version – even though it's already been rated R-21 (Homosexual content).
But no matter – this reporter assures you that the film remains eminently watchable and well-stocked with male beauty, despite the butchery of the local censors. Furthermore, Vietnamese readers can enjoy a moment of satisfaction at our expense. Saigon may not be paradise, but it least its residents may soon enjoy same-sex marriage rights, and already its bureaucrats are smart enough not to treat cinema-goers like children.
The 5th Love and Pride Film Festival runs from 29 January to 4 February. Lost in Paradise will screen at Golden Village Grand, Great World City, on Fri 29 Jan at 7:30pm and Sat 2 Feb at 4pm. To find out more about the films, and to buy tickets, visit http://www.gv.com.sg.