France's National Assembly has approved a key article of a controversial bill that would allow same-sex marriage and grant gay couples the right to adopt children. Members of the lower house on Saturday voted 249-97 – with most deputies from the ruling Socialist Party voting in favour – to drop the legal requirement that a marriage in France must be between two people of the opposite sex.
To become law, the measure must now be approved by France's Senate. The motion is supported by President Francois Hollande of the Socialist Party.
The draft law, the first major social reform of Hollande's presidency, has sparked major protests as several hundred thousand people massed at the Eiffel Tower in Paris last month to protest against the plan. The latest news has further prompted fresh protests in several towns on Saturday.
The BBC reports that opinion polls suggest that around 55-60% of French people support gay marriage, though only about 50% approve of gay adoption.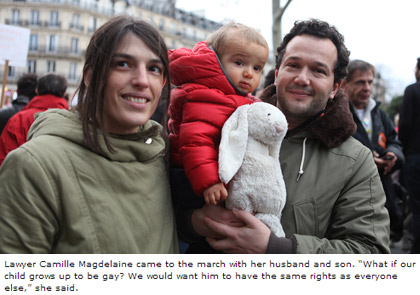 Image and text from France24.com
The bill marks one of France's biggest social reforms since the abolition of the death penalty in 1981.
Since November 1999, France (then also under a socialist government) introduced Pacs (Pacte civil de solidarite) mainly to allow same-sex couples to register their civil unions although opposite-sex partners are not barred from it. The system accords some but not all of the joint tax and financial privileges of their married counterparts but does not provide parenting rights. Reuters reported that in 2010, there are 251,654 heterosexual marriages and 205,558 civil unions, 94 percent of them between opposite-sex couples.
The final vote is scheduled for February 12.
Same-sex marriage is also up for debate in neighbouring Britain this week although senior local Conservatives are urging the prime minister to delay any parliamentary decision on gay marriage until after the next election. Currently, civil partnerships for same-sex couples are legal in the UK, and provide the same legal rights as marriage. However, gay marriage supporters say the distinction implies that gays and lesbians are inferior.