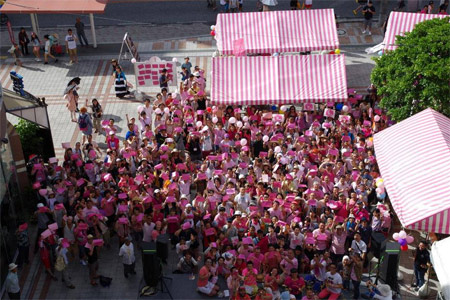 Pink Dot Okinawa was held in Naha city on July 14.
Inspired by the event of the same in Singapore, co-organiser of Pink Dot Okinawa Hideki Sunagawa was inspired to organise one as a way for Okinawans to show their solidarity for a more tolerant and inclusive society towards LGBT individuals.
According to the group's Facebook update, the event which is the first public LGBT-affirmative event in the prefecture to be held attracted 800 participants on Sunday, July 14.
Okinawa Prefecture is made up of a chain of islands, where the main island is located about 640 kilometers from mainland Japan. It has a population of about 1.4 million and a society with strong traditional family values. Most LGBTs choose to stay within the social structure that is expected of them; they get married and have children.
Even though traditional family values is strong in Okinawa, there is a higher degree of acceptance for non-traditional family arrangements compared to some parts of rural Japan. Okinawa has the highest number of single parent households, and the highest number of children from single parents, in all of Japan. Seeing that there is higher acceptance for such family arrangements, Sunagawa feels that Okinawa has the potential to be more LGBT-friendly: "I think in a society where there are a lot of such families, a person who is gay or lesbian can be more accepted.