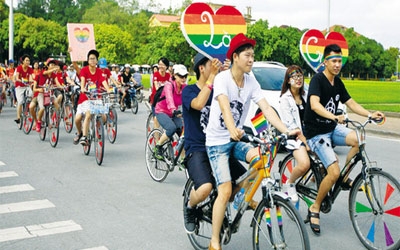 LGBT activists waving rainbow flags and banners biked through central Hanoi on Sunday morning as part of Vietnam's second gay pride parade. Although the communist country normally tightly restricts demonstrations, the pride event which saw around two hundred participants cycle or biked down the streets went on without a hitch, according to media reports.
The three-day event started on Friday evening with the unveiling of the Strive with Pride scholarship scholarships to support young LGBTs who have been forced to drop out of school due to discrimination.
Homosexuality remains largely taboo in Vietnam although the topic is being increasingly discussed. The country's first-ever gay sitcom My best gay friends has become a nationwide phenomenon with the first episode of the 15-part series breaking the one million view mark on Youtube in April this year.
The government is considering legalising same-sex marriage with the Justice and Health Ministries having publicly supported the move. A law on marriage and family is due to be debated at the National Assembly later this year. If approved, Vietnam would be the first Asian nation to legalise same-sex marriage despite its less than stellar record on human rights.