Vietnam's Ministry of Justice has announced that it supports the proposal to remove a clause in the 2000 Law on Marriage and Family which bans same-sex marriages, according to Vietnam's Dan Tri news. The ministry also suggested applying the same marriage ages for both males and females starting at 18, instead of 18 for females and 20 for males as currently regulated.
The report quoted Minister of Justice Ha Hung Cuong who conceded that while many members of the public may be opposed to same-sex marriage, recognition of same-sex marriage is a necessity to prevent discrimination as well as a legal framework to help deal with problems related to assets and children in cases of cohabitation.
The ministry proposed working on a suitable roadmap for the legalisation of such issue before coming to a final decision. The report further quoted the ministry as saying that many countries including the Netherlands, Canada and France have suitable roadmaps for the issue.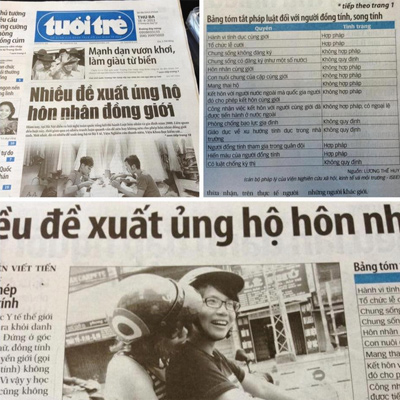 From the Tuoi Tre newspaper. Photo courtesy ICS
(Information Connecting and Sharing) Facebook page

In the same week, the Vietnam Net Bridge newspaper carried a report that quoted a LGBT activist as saying that while Vietnam, a one-party Communist state, has made significant progress in accepting LGBTs, it will take more time to secure the National Assembly's approval for same sex marriages.
Speaking at a conference held by the Institute for Studies of Society, Economy and Environment and the Standing Committee of the National Assembly's Institute for Legislative Studies in Ho Chi Minh City on Saturday, Le Quang Binh, head of the Institute for Studies of Society, Economy and Environment (iSEE), said discrimination against the LGBT individuals remains high in the country because there are no laws protecting them.
Hanoi will host its second Viet Pride from August 2 to 4. The festival will feature film screenings, research presentations, music live performances, and a cycle parade through the city center on Sunday morning beginning at My Dinh Stadium and ending at Ly Tu Trong Park. Last year, organisers said some 180 people – while various media outlets have put the number at about 100 – pedalled through Hanoi on Sunday at the inaugural Viet Pride parade.