Just a year after his maiden foray into competitive bodybuilding where he earned the top prize in the 85kg (middleweight) category at the Nationals in 2008, fashion photographer Chan Wai Teik took home the coveted Mr Singapore 2009 title at the National Bodybuilding and Fitness Championships in May this year.
Having picked up photography in his teens, Chan is today one of Singapore's best known names in the industry and has garnered awards from Singapore to Paris, the most recent being an Honourable Mention at the prestigious PX3 Prix de la Photographie Paris 2009 and also in 2008, as well as five Honourable Mentions at The International Photography Awards 2008.
The 37-year-old, who goes simply by Wai Teik, might otherwise be better known to some as the photographer behind the book Hypertrophy in which he photographed six Asian body-builders.
We catch up with Wai Teik, as he is currently shuttles between Singapore and Shanghai where he is shooting editorials for fashion and lifestyle magazines such as Harpaar's Bazaar Men's Style and Men's Health.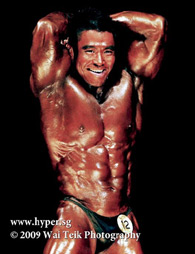 Chan Wai Teik, Champion of the 85kg category and overall winner at the 47th National Bodybuilding Championships in 2009.
æ: How does it feel having won the competition?
Wai Teik: It certainly feels great! Apart from winning the middleweight category, the winning of the overall title "Mr Singapore" at the Singapore National Bodybuilding Championships is an affirmation of my hard work put in over the last 14 years.
æ: What are the biggest challenges you had to overcome during the competition preparation phase?
Wai Teik: The toughest part must be the physiological part involved during the dieting phase. During dieting, the reduction of carbohydrates and ingesting of "clean" food is not as difficult to handle. However, when I see myself shrinking in size everyday, I find that hard to accept. It is inevitable that during this phase, in order to lose fat and gain vascularity, bodybuilders will lose their overall size. Coupled with that, there will be loss of strength when the bodyweight drops.
æ: When did you decide to get into bodybuilding and why? What keeps you motivated?
Wai Teik: My initial foray into bodybuilding must be when I bought a set of dumbbells and barbells for home usage when I was about 16 years old. Since the weightlifting bench was too costly, I ended up using my piano bench for my bench press! (Laughs) The thought of looking like Arnold Schwarzenegger in the glossies kept me motivated all these while. Recently I joined Fitness First - the branches at Fusionpolis and One Raffles Quay offer breathtaking views; training in that environment keeps my mind refreshed and enables me to stay motivated.
æ: Is it the first bodybuilding competition you had joined? If no, what were the others and when?
Wai Teik: My maiden foray into bodybuilding was last year when I won the middleweight category in the Singapore National Championships 2008. In April this year, I competed in the under 85kg category at the Netherlands Open Championships. Despite having stiff competition from about 14 bodybuilders from China, Belgium and Netherlands, I took the 4th placing, much to my delight.
æ: Do you have a role model or favourite bodybuilder?
Wai Teik: Hidetada Yamagishi must be my favourite Asian bodybuilder. He is doing Asians very proud, having achieved very high placing in the recent American competitions. I met up with him last year in Tokyo and had the rare opportunity to train with him for three days. He was amazingly humble and nice to me, imparting training knowledge to me. Another of my favourites is Victor Martinez. During the competition held in Netherlands in April this year, he was the guest poser. I met him backstage where he was swamped with bodybuilding fans, dying to have a shot with him. Amidst all the jostling, I managed to steal a picture with him. Both of my idols have the same overall package – their physiques are perfectly symmetrical, they have full muscle bellies, great proportion and the winning smile!
æ: What is it about bodybuilding that you love?
Wai Teik: I think it is not merely the physical aspect that I love. I would say that by and large, bodybuilding is very much about the physical appearance. It is also the male bonding during training that I feel is part and parcel of the sport. Friendships are forged during training and fellow bodybuilders have this look of respect when they meet each other. Besides I love the delayed onset of muscle fatigue that occurs after an intense workout session. To me, this ache conveys to me that it has been a great workout and that the muscles are growing.
æ: What's your favourite body part and why?
Wai Teik: My favourite body part is my shoulders. I think they are relatively broad and they response very well to training. In fact, they remain consistently big even when I lay off gym training. On the other hand, my chest tends to lag behind a lot when I slack off my training. Hence chest is my favourite body part that I train. My chest has improved a lot over the years, even though I feel my upper chest still pales in comparison to the rest of my physique.
æ: Has (and if so, how) has winning the competition changed your life?
Wai Teik: There has been much publicity and hype surrounding my win. At first I thought it was simply a personal achievement. Much to my surprise and delight, this publicity has generated a lot of interest in my work as a fashion photographer. Old clients are reminded that I exist and creative directors from as far as Paris and New York have emailed me, congratulating me. I guess winning the title added an extra dimension to my portfolio as a fashion photographer. It made people sit up and notice that I am different from other photographers. I feel perfectly comfortable straddling between these two seemingly diametrically opposed disciplines, bodybuilding and high fashion.
æ: How do you think being a photographer has affected your being a bodybuilder?
Wai Teik: Been a photographer, I am more sensitive to the usage of lighting. Hence I think I have a slight advantage over fellow bodybuilders. Once I step onstage, I look out where and how the light is cast. I try to envision how the light falls on my physique when I am posing on stage. The overall presentation of a bodybuilder is a crucial part of the judging criteria. How the vasularity show up on the skin has largely to do with how the light falls on the body. For instance, if a subject is lit from the top, he will appear much more "cut" compared to another lit from the front.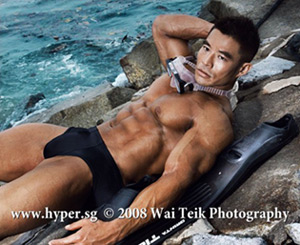 æ: Are there any myths about bodybuilding and/or bodybuilders that you would like to dispel?
Wai Teik: One huge myth is that bodybuilding is merely about drugs and narcissism. This is certainly not true. Genetics play a huge role in determining whether a person can be a champion. Hard work, dedication and perseverance are crucial in the making of a great bodybuilder. Bodybuilders may appear to be an egoistical lot. However, I have met true champions who are humble, down to earth and willing to share. I am tempted to say that empty vessels make the most noise, literally because those are the ones who create the most unnecessary noise in the gym.
æ: We know that bodybuilding /weight training is a very popular activity among gay men, whether one competes or not. 'Muscle worship' is also fast gaining ground as a subculture in the gay community. What do you think the fascination is with bodybuilding/bodybuilders?
Wai Teik: First of all, I think there is some disparity between my definition of a bodybuilder and that of most people. What is a bodybuilder to a lot of people is actually "lean-fit" to me. My definition of a bodybuilder is someone who possesses a physique similar to that of Hidetada Yamagishi. To others, he will be considered a "freak". The fascination of bodybuilders arose I think because they appear larger than life, more muscular than the average. During a bodybuilding competition, this illusion is heightened as the bodybuilder becomes objectified. This illusion is aided by the use of bronzing gels, stage lights and a raised stage. All these factors add a veneer to the bodybuilders, making them similar to performers during a theatrical act.
æ: Your coffee table book Hypertrophy, which Fridae featured in 2007, featured Singapore bodybuilders, what draws you to musclemen?
Wai Teik: The fact that I participate in the sport makes me appreciate the toil, blood and sweat behind it. It is a tribute to the bodybuilders who had put in years of hard work. Prior to this book, there was no pictorial that showcases the Asian musculature from a fashion perspective. The book is narrative and cinematic in approach as opposed to a typical coffee table book. It opens with a microscopic and abstract view of the Asian bodybuilders, climaxes with dynamic water shots and ends off with them posing stoically with Roberto Cavalli jackets. Typically the white or black bodybuilder is put on the pedestal, hence I feel the Asian bodybuilder is neglected. Since I am an Asian bodybuilder myself, I feel there should be a platform where our physiques are showcased.
æ: What's one tip you would give other bodybuilders?
Wai Teik: Perseverance is one key word to success. Bodybuilding is an extremely long-term investment. Typically one does not see results until years of consistent training and dieting. I have encountered people who asked me how long I have taken to achieve this physique. They were astonished to learn that I have taken about 14 years. They would want to know if this could be done in six months. My theory is very simple - what you gain fast, you will lose it even faster. Bodybuilding is a slow sport that requires a lot of patience, endurance and perseverance. Hence I feel that character building has a great role in it.
æ: What are your future goals with regards to bodybuilding?
Wai Teik: I hope to be able to represent Singapore and bring glory to the sport. I do not rule out the possibility of giving personal training so as to impart what I have learnt to others. Since I consume health supplements on a daily basis, I may market them as well. For more updates, please log on to
www.hyper.sg
.