In its eighth year, Ecnad presents a dynamic and captivating double bill with new works by artistic directors Lim Chin Huat and Tan How Choon. Performances run between 18-21 and 25-27 November at the historic Arts House (Old Parliament House).

In groundbreaking pieces combining live performance with video
projections, moving water and designer furniture, Spy &
Ego complement each other, examining the sense of self and society at large.

Spy
"What are we when we are alone? Some, when they are alone, cease to exist." - Eric Hoffer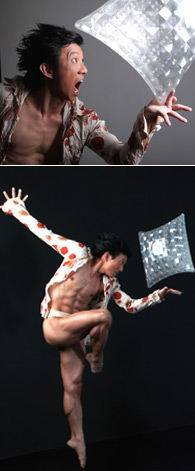 Do you dance in front of the mirror at home? Do you feel alone in a crowd? Spy unlocks the heart and soul of urban living, as longing and secrets are played out in the interior of a home.
Inspired by his personal observations about isolation, Chin notes that "to conform we learn to hide emotions - we may share a house with people, but not our lives. We go about our daily tasks separately, communicating little of what really matters to us. People might feel lonely, but they are not alone."
In a set calculated to turn the audience into unsuspecting voyeurs, young designer Caroline Kwek revives the theatre in the round tradition using organza as illusory walls, placing the audience on all sides. ModLiving sponsors the avant-garde furnishings featuring the iconic Cappellini and Moroso ranges - surrounded by the trappings of modern affluence, ultra chic fixtures and transient gadgets, the isolation of individuals in a crowded world comes into focus.
The physicality of the work references Chin and Sam's contemporary training. Weighted, deliberate movements highlight the heavy poignancy of loneliness interspersed with synchronised hyper activity at moments of human connection.
A recipient of the Professional Artist Grant (1999) and Young Artist Award (2000) from NAC, Lim Chin Huat trained under the likes of Colleen Darby and Janet Sturman. Formerly head of the Toy Factory Ensemble (1994-96), his works include
a-the-bird
,
Floating Mirror
and
Tales from a Giant Blanket
showcased at festivals in New Zealand, the former Yugoslavia and Indonesia. Kon Su Sam began his professional career as a dancer with Ecnad, performing in most of the company's productions and touring with the company to Indonesia, Yugoslavia and New Zealand.
March Spin
(2003, 2004) intimated his budding talent as a choreographer.
---
Ego Flamingo
When are your fantasies a reality? When are they just that - pure fantasy? Artistic director Tan How Choon fuses dance and vocals in an artistic adventure that explores the beauty and irony of existence from the point of view of a flamingo that thinks it is a man. Or is it a man who thinks he is a flamingo?

How Choon cites the elegance and likeness of a flamingo to a flame standing in water from afar as the inspiration for his piece. The disjunction between a flame and water being elements of such differing qualities sparked his imagination, which has culminated to an exploration of the human condition.
Set designer Lim Chin Huat harnesses the reflective and refractive qualities of water, frosted acrylic sheets and video projection to create a visually spectacular foil for the work's movement between the self, imagination and actuality.
The physicality of the piece alludes to How Choon's former gymnastic,ballet and contemporary training. Opening the piece en pointe, the contorted rocking of a sensitive newborn man from flamingo gives way to cleaner, linear lines when human.
A recipient of the Professional Artist Grant (1999) from NAC, How Choon trained in the US and Singapore with luminaries such as Colleen Darby, Anna Sokolow and Mary Anthony.
Collaborating with Lim Chin Huat on
Zero O'Clock
(1996), its excellent reception led them to found Ecnad Project which has lead to thirty multidisciplinary productions including
Plastic
(1998),
Water Story
(2001) and
Missing in Tall Pillars
(Singapore Arts Festival, 2002). He is currently exploring voice-movement integration, as well as developing bone-breathing and contact improvisation.
Spy
Date & Time: 18-21, 25-27 November 2004, 8pm; video installation exhibition daily
Ego
Date & Time: 18-21, 25-27 November 2004, 9pm
Venue: The Arts House, behind Victoria Theatre (theartshouse.com.sg)
Tickets: The Arts House box office
Tel: 63326919
Price: $50 (Charity Premiere), $28 (Full Price), $24 Early Bird, Friends, Students, Groups, Manazine or Package (with either Spy or Ego)